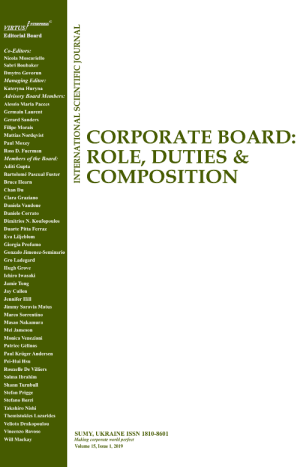 Board policy of humanitarian organizations towards creating and maintaining their employer brand during the COVID-19 pandemic
Download This Article
Mohammad A. Ta'Amnha
, Omar M. Bwaliez
, Ihab K. Magableh, Ghazi A. Samawi
, Metri F. Mdanat

This work is licensed under a Creative Commons Attribution 4.0 International License.
Abstract
The coronavirus disease 2019 (COVID-19) pandemic developed a new form of perceived organizational support called COVID 19-related organizational support (COVID-OS). This study investigates the role of COVID-OS in creating and maintaining an attractive employer brand. Although the COVID-19 pandemic has affected all types of organizations, both profit and nonprofit, the literature still lacks thorough research about the COVID-OS and employer brand in the context of nonprofit organizations (particularly the humanitarian ones). Based on in depth qualitative data drawn from 38 semi-structured interviews with humanitarian employees in Jordan during the COVID-19 pandemic, this study revealed that the board of humanitarian organizations can create and maintain their employer brand through providing different forms of organizational support to their employees. These forms of support are health and mental support, support from the working social environment, support of the work-life balance, providing online training and development programs, fair recognition and compensation programs, and leadership support. This study provides significant theoretical implications to the literature regarding the link between organizational support and employer brand. It also offers valuable practical implications for policymakers of humanitarian organizations.
Keywords: Employer Brand, Perceived Organizational Support, COVID-19 Pandemic, Qualitative Research, Humanitarian Organizations, Jordan
Authors' individual contributions: Conceptualization — M.A.T. and O.M.B.; Methodology — O.M.B. and M.A.T.; Writing — Original Draft — M.A.T. and O.M.B.; Writing — Review & Editing — I.K.M., G.A.S., and M.F.M.; Supervision — O.M.B.
Declaration of conflicting interests: The Authors declare that there is no conflict of interest.
Acknowledgements: The research is funded by German Jordanian University, Amman, Jordan.
JEL Classification: D23, J28, L33
Received: 27.04.2021
Accepted: 07.10.2021
Published online: 09.10.2021
How to cite this paper: Ta'Amnha, M. A., Bwaliez, O. M., Magableh, I. K., Samawi, G. A., & Mdanat, M. F. (2021). Board policy of humanitarian organizations towards creating and maintaining their employer brand during the COVID-19 pandemic. Corporate Board: Role, Duties and Composition, 17(3), 8–20. https://doi.org/10.22495/cbv17i3art1