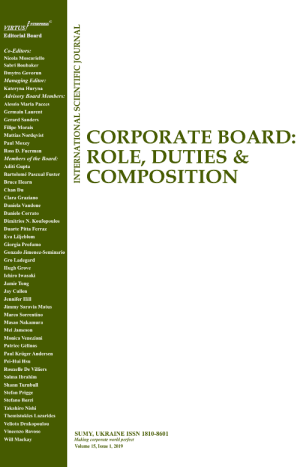 An activist investor's successful corporate governance and strategic management impacts: An updated L Brands case study
Download This Article

This work is licensed under a Creative Commons Attribution 4.0 International License.
Abstract
The key research aim of this paper is to analyze whether an activist investor's recommendations for financial, corporate governance, and strategic management performances were successful or not. This paper updates the initial case study of the activist investor, Barington Capital Group, in analyzing the performance of a public company, L Brands, which had lost $20 billion in market capitalization in the last three years prior to the public letter from Barington to the L Brands CEO in March 2019. This updated case study analyzes whether Barington's initial recommendations worked as operational guidelines for improving L Brands' financial, corporate governance, and strategic management performances. From its financial analysis, Barington recommended either an initial public offering of the superior performing Bath & Body Works brand or a spinoff of the weak performing Victoria's Secret brand. From its corporate governance and strategic management analysis, Barington recommended that L Brands improve the composition of its board of directors whose deficiencies in director independence, industry experience, and diversity hindered its ability to effectively oversee and advise strategic management. It is important to note that this paper was prepared exclusively with public information.
Keywords: Activist Investors, Corporate Governance, Barington, L Brands
Authors' individual contributions: Conceptualization — H.G. and M.C.; Methodology — H.G.; Resources — M.C.; Writing — Original Draft — H.G.; Writing — Review & Editing — M.C.; Visualization — M.C.; Funding Acquisition — M.C.
Declaration of conflicting interests: The Authors declare that there is no conflict of interest.
JEL Classification: G3, G30
Received: 20.08.2021
Accepted: 30.11.2021
Published online: 03.12.2021
How to cite this paper: Grove, H., & Clouse, M. (2021). An activist investor's successful corporate governance and strategic management impacts: An updated L Brands case study. Corporate Board: Role, Duties and Composition, 17(3), 61–71. https://doi.org/10.22495/cbv17i3art5