New issue of the Corporate & Business Strategy Review journal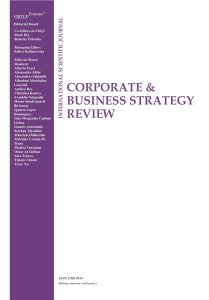 The editorial team of Virtus Interpress is delighted to release a new issue of the journal Corporate & Business Strategy Review.
The issue presents studies devoted to various corporate governance and strategy topics, such as accounting, accounting misstatement, financial distress, external audit, audit committees, ownership structure, ownership concentration, firm performance, security costs, gender diversity, stock price, SMEs, import and export, competitiveness, financial indexes, income and consumption, creative industry, e-commerce, entrepreneurship, civil economy, digitalisation, internationalization, economic impacts, political economy, employee engagement, reward and recognition, work-life balance, human resource management, job commitment, etc.
The full issue of the journal is available at the following link .
Nadiah Amirah Nor Azhari, Suhaily Hasnan, Zuraidah Mohd Sanusi, Afiatul Rohmah Mohamed Hussain, and Ahmed Abdullah Saad Al-Dhubaibi examine factors related to the occurrence of material accounting misstatements in Malaysian public listed companies.
Thitimon Withupassakan, Tanpat Kraiwanit, Yarnaphat Shaengchart, Kris Jangjarat, and Somchai Virunhaphol determine if digital citizenship and demographic characteristics impact the civil economy of digital citizens as assessed by civil engagement and household income.
Kimete Canaj, Artan Nimani, Blerim Canaj, and Denis Spahija focus on internationalization, considering research and internationalization as the major difficulties confronting most higher education institutions in the region.
Fatmire Krasniqi, Saranda Leka, and Gezim Jusufi aim to analyze the impact of business-related crime on the performance of Kosovo firms.
Jemal Redwan Muzeyin, Hamed Mahmoud Shamsaan Ahmed, Yaregal Awoke, Muhaba Nuredin Ferejo, Temesgen Abebaw, Temesgen Yirgu Beyene, and Shemila Jemal Amde identify the determinants of employee engagement in the emerging market among Silite zone teachers through a cross-sectional descriptive and explanatory research design.
Dimitrios Belias, Ioannis Rossidis, Panagiotis Lazarakis, Christos Mantas, and Angelos Ntalakos investigate the interaction of human resource management, strategic leadership, role conflict, job commitment, and job stress of employees in a public tourism organization.
Laura Naka and Denis Spahija aim to highlight the importance of English foreign language and its role in the professional and academic development of university lecturers and the development of higher education institutions in non-English speaking countries.
Sebastianus Laurens evaluates how gender diversity impacts the stock price, whether on the audit committee, commissioners, or directors, using firm size as the moderating variable.
Rinitami Njatrijani, Bernika Nadia Salsabila, and Bagus Rahmanda deal with the question of how small and medium-sized enterprises in Central Java perform against the Indonesia National Single Window in international trade.
Christos Konstantinidis, Paschalia Plioska, Sofia Kourtesi, and Stella Zografo calculate the financial indexes for the two biggest in terms of market share flour milling manufacturing firms in Greece.
Saranda Tafa, Roberta Bajrami, Gezim Shabani, and Adelina Gashi measure the impact of the COVID-19 pandemic on household income including household consumption and savings for the years 2020–2021.
Pranesh Debnath, Biplab Kumar Dey, Nilanjan Mazumdar, Sukriti Das, and Happyson Gachuiwo study the effect of ownership structure on corporate performance after the application of the Companies Act, 2013 considering fast-moving consumer goods sector firms listed on the Bombay Stock Exchange.
Ismaiel Abuamoud, Amal Ibrahim, and Raed Al-Tabini conduct a survey with the goal of measuring the economic impact of the COVID-19 pandemic on the tourism industry in Petra.
Michael Sunday Agba, Regina Ingekem Ocheni, Stephen Ikani Ocheni, Godwin Ettah, Pius Otu Abang, Salisu Ojonemi Paul, and Grace Eleojo Michael Agba debate the effects of the COVID-19 pandemic on the workplace of higher educational institutions in developing market economies.
Suphan Sarkorn, Rattaphong Sonsuphap, and Pirom Chantaworn assess the variables that influence such transitions and the resulting modifications, using qualitative data analysis and in-depth interviews.
And the last article in this issue by Ivan Triyogo Priambodo, Sasmoko Sasmoko, Sri Bramantoro Abdinagoro, and Agustinus Bandur clarifies e-commerce maturity as the reason the focal point of Indonesian creative industry business visionaries during the COVID-19 pandemic in the new ordinary time in Indonesia.
We are grateful to all the scholars who have contributed to this issue and hope that readers will enjoy reading papers of this issue and exploring the results of these studies!