New issue of the Corporate Governance and Organizational Behavior Review journal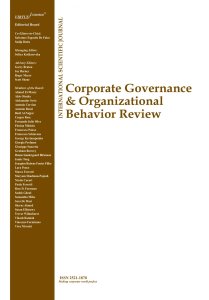 The editorial team of Virtus Interpress is happy to release a new issue of the journal Corporate Governance and Organizational Behavior Review.
The articles published in this issue investigate problems related to corporate governance and organizational behavior, such as the pre-market individual investors' sentiment, initial public offering, business strategy, digital innovation technology, competitive advantage, International Financial Reporting Standards (IFRS), credit market, financial statements' quality, agency conflict, social responsibility, local government ownership, corporate accountability, entrepreneurship, performance, youth businesses, socioemotional wealth, family firms, corruption, financial mismanagement, accounting performance, accounting measures, competitiveness, manufacturing output, short-run effects, exchange rate devaluation, green economy, sustainable development, leadership styles, organizational culture, tax regulation, etc.
In the first paper, Norliza Che-Yahya, Siti Shahirah Saleh, and Nura Lina Md-Elias investigate what influences initial public offering initial return and trading volume from the perspective of investors.
Ida Farida and Bambang Sutopo focus on the nexus between digital innovation technology and competitive advantage. This research was carried out specifically by exploring the interaction between management business strategy with a competitive advantage and digital innovation technology on micro, small and medium enterprises (MSMEs) in Central Java.
Sinan Salem Kasim Al-Shaikh, Hussen Amran Naji Al-Refiay, and Azher Subhi Abdulhussein examine the implications of mandatory IFRS implementation on the rational investment decisions of lenders and borrowers in the emerging market.
The aim of the research by Widiyanto, Partono Thomas, Arief Yulianto, Ita Nuryana, and Ahmad Nurkhin, is to determine the impact of increased risk on rural bank lending.
Tapiwa Muzata evaluates the extent to which King IV serves the transformation agenda of universities and provides recommendations for future King Code installments given transformation imperatives in South Africa.
Master Maapae Maebane analyzes the profitability of youth-owned businesses and makes recommendations for young people who have undertaken new entrepreneurial ventures, business consultants, and other stakeholders in youth entrepreneurship, and future research directions are outlined.
The paper by Patrick Ulrich, Vanessa Frank, and Ricardo Buettner discusses the specifics of AI use in family businesses on the basis of a German empirical study and describes some differences between small and medium-sized enterprises (SMEs) and large companies.
The study by Sihle Lloyd Ndlovu and Emmanuel Mutambara sought to investigate manifestations of corruption within KwaZulu-Natal municipalities. The study helps South African organizations to detect different forms of corruption and take appropriate mitigation measures.
Salowan Hafadh Hamed Al-Taee and Hakeem Hammood Flayyih analyze the effect of electronic internal auditing (EIA) based on the Control Objectives for Information and Related Technologies (COBIT) framework.
Asaad Alsakarneh, Bilal Sakarneh, Mohammad T. Bataineh, Baha Aldeen Mohammad Fraihat, Maher Nawasra, and Arkan Walid Al-Smadi aims to highlight the connection between emotional labor and its impact on employee performance.
The paper by Michail Pazarskis, Stergios Galanis, Christos Konstantinidis, and Sofia Kourtesi, investigates the successful governance or not through accounting performance of local government organizations (LGOs) after mergers as part of the public sector during the period of the economic crisis in Greece.
David Umoru, Solomon Edem Effiong, Malachy Ashywel Ugbaka, Danjuma Iyaji, Gbenga Oyegun, Francis Ejime Ofie, Kasimu Eshemogie, Anna Nuhu Tizhe, and Rafat Hussaini ascertain the threshold effects of exchange rate devaluation and changes in oil prices on the industrial output of thirty developing countries using threshold and nonlinear autoregressive distributed lag (NARDL) regressions.
Using recent data from the New Zealand banking industry, Citra Amanda and Ananta Dian Pradipta examine the most important factors that determine bank risk. This study supports the deposit insurance schemes in New Zealand as a part of the system to maintain banking stability.
Veraphong Chutipat, Rattaphong Sonsuphap, and Witaya Pintong focus on evaluating the administration and management of the Bio-Circular-Green (BCG) model implementation in Thailand, factors influencing the success of implementing the model, and recommendations for enhancing the BCG economy.
Yousef Amin Salman Almahasneh, Mohd Shaari Bin Abd Rahman, Khatijah Binti Omar, and Siti Nur Atikah Zulkiffli aim to determine the impact of organizational culture and leadership styles on the performance of Jordanian government organizations.
The research by Radhi Al-Hamadeen, Taha Almarayeh, Dana Fakhoury, Jowan Rezqallah, Nadeen Zraiqat, and Zein Marzouka assesses the overall awareness of tax professionals on transfer pricing (TP) and its applicability in the early stage of its implementation.
The final paper, by S. Sandhya and Neha Parashar, attempts to understand the attitude and perception of retail investors in India toward corporate governance practices.
The full issue of the journal is available here.
We wish you pleasant and informative reading!