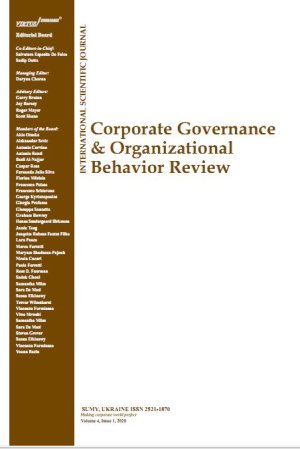 Governance, competitiveness and performance after mergers of local government organizations in turbulent times
Download This Article
Michail Pazarskis
, Stergios Galanis
, Christos Konstantinidis
, Sofia Kourtesi

This work is licensed under a Creative Commons Attribution 4.0 International License.
Abstract
This paper investigates the successful governance or not through accounting performance of local government organizations (LGOs) after mergers as part of the public sector during the period of the economic crisis in Greece. The purpose of this work is to evaluate the performance after the mergers of various LGOs in Greece. More specifically, the analysis of the fifteen largest Greek merged municipalities in terms of economic sizes is done using accounting measures by analyzing their competitiveness and comparing their performance per several time periods, based on their accounting data for the years 2011–2017, i.e., after the mergers that took place since the implementation of the Kallikratis Program that occurred in 2010. The research results showed statistically significant change in the examined accounting measures after the mergers in different phases of the economic crisis period in Greece. From the analysis of the accounting performance, useful conclusions are drawn about the efficiency of each new municipality, since its establishment and for seven years, as well as conclusions from the success of the Kallikratis Program.
Keywords: Mergers, LGOs, Accounting Performance, Accounting Measures, Competitiveness, Greece
Authors' individual contribution: Conceptualization — M.P.; Methodology — S.G. and C.K.; Validation — C.K. and S.K.; Formal Analysis — S.K.; Investigation — C.K.; Resources — S.G.; Data Curation — S.G.; Writing — Original Draft — S.G.; Writing — Review & Editing — M.P. and S.K.; Supervision — M.P.; Project Administration — M.P. and S.K.
Declaration of conflicting interests: The Authors declare that there is no conflict of interest.
JEL Classification: G34, M41
Received: 26.10.2022
Accepted: 10.02.2023
Published online: 14.02.2023
How to cite this paper: Pazarskis, M., Galanis, S., Konstantinidis, C., & Kourtesi, S. (2023). Governance, competitiveness and performance after mergers of local government organizations in turbulent times. Corporate Governance and Organizational Behavior Review, 7(1), 111–120. https://doi.org/10.22495/cgobrv7i1p11