New issue of the Corporate Governance and Organizational Behavior Review journal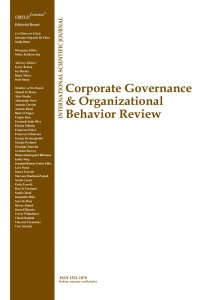 The editorial team of Virtus Interpress is pleased to announce a release of the first issue of the journal Corporate Governance and Organizational Behavior Review in 2021.
The articles published in this new issue investigate such topics as human capital, human resource reporting, board practices, corporate governance, future learning modes, conflicts, principal-principal conflicts, shareholder activism, institutional investors, risk management, risk map, poverty control, export earnings, sustainable development, SDGs, government policy and regulation, decision-making, organisational behavior, group dynamics, social intelligence, strategic choices, corporate culture, employee motivation, employee productivity, etc.
The full issue of the journal is available at the following link.
Shirley Mo Ching Yeung in the first paper aims to identify the key elements in blended learning with innovations and research technology capabilities for a way normal of learning and teaching under COVID-19. The author reviews documents in blended learning from Asia, America, and Europe with the key elements in blended learning for faculty development in higher education institutions.
Bruno Elmôr Duarte and Ricardo Pereira Câmara Leal, using the cases of three large high ownership concentration listed firms, analyze conflicts between principals that led to activism by one large Brazilian government-owned investor as a minority shareholder and verify the antecedents, means employed, apparent motivations, and effectiveness of reactions.
Hugh Grove, Maclyn Clouse, and Tracy Xu examine how corporate boardrooms can monitor human resource reporting, especially with emerging reporting requirements from the U.S. Securities and Exchange Commission for all domestic and foreign public companies listed on U.S. stock exchanges.
Ramzi Trabelsi estimates the operational risk management in the Tunisian postal industry using a survey methodology on the basis of a sample of 65 postal offices in the period between 2015 and 2017.
Nawazeesh Muhammad Ali and Wanakiti Wanasilp study the main ways of poverty drop in Bangladesh from the regulation of international political economy and development perspective and deal with the question of how governance of the country can reduce poverty.
Hany El Beshlawy and Sinan Ardroumli interviewing 26 board members of 21 companies operating under duress explore the effects on boardroom level decision making of the magnified levels of duress and stress experienced during turbulent times.
Finally, Birendra Nath Singh investigates the issue of categorizing all employees into groups and concludes that there are three major groups named Theory A, Theory B, and Theory C; at this, Theory B is most dominant group, having all capabilities to significantly influence productivity and prosperity of organizations.
We hope that the readers of the journal of Corporate Governance and Organisational Behaviour Review will find this issue worth reading.