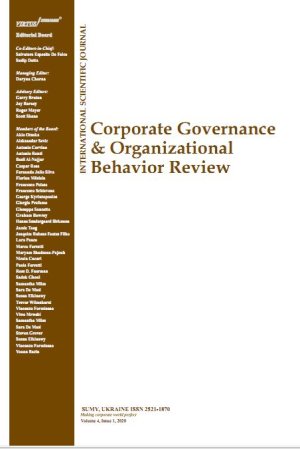 Board dynamics and decision-making in turbulent times
Download This Article
Hany El Beshlawy
, Sinan Ardroumli

This work is licensed under a Creative Commons Attribution 4.0 International License.
Abstract
The board of directors' role is evolving and becoming more important in the wake of corporate scandals resulting in the collapse of large corporations and losses to shareholders. Poor governance can lead to wrong decision-making, which might destroy organizations, particularly during times of environmental turbulence. The 2008 Global Financial Crises followed by the 2011 Arab Spring throughout the MENA region and then the 2019 pandemic situation are few of many factors that created a turbulent economic and political environment for organizations, highlighting the importance of excellent decision-making skills. However, there is limited research on boards' decision-making during difficult times in the MENA region. The authors interviewed 26 board members of 21 companies operated under duress to examine the effects on boardroom level decision making of the magnified levels of duress and stress experienced during turbulent times. Key findings from the research include trends in emotional responses in relation to decision-making, changes in the decision-making process after crises, leadership positions, and board behavior. The authors recommend that boards incorporate diversity training and awareness into all levels of their decision-making process and to the board members' selection process. Future research should expand to different regions and industries and examine the effects of board members' personal traits and backgrounds on their quality of choices and decision-making.
Keywords: Corporate Governance, Group Decision-Making, Group Behavior, Group Dynamics, Conflict, Social Intelligence, Strategic Choices, Corporate Culture
Authors' individual contribution: Conceptualization — H.E.B.; Methodology — H.E.B. and S.A.; Validation — H.E.B. and S.A.; Writing — Original Draft — H.E.B. and S.A.; Writing — Review & Editing — H.E.B. and S.A.; Visualization — H.E.B. and S.A.; Supervision — H.E.B. and S.A.; Project Administration — H.E.B. and S.A.
Declaration of conflicting interests: The Authors declare that there is no conflict of interest.
JEL Classification: G34, D74, M14
Received: 20.04.2021
Accepted: 01.07.2021
Published online: 02.07.2021
How to cite this paper: El Beshlawy, H., & Ardroumli, S. (2021). Board dynamics and decision-making in turbulent times. Corporate Governance and Organizational Behavior Review, 5(1), 57-68. https://doi.org/10.22495/cgobrv5i1p6