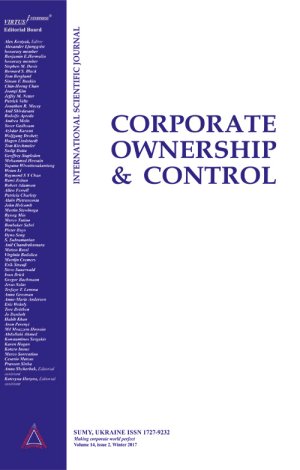 Route to financial sustainability: Implications in a mixed method framework
Download This Article
Ashik-Uz-Zaman
, Md. Sharif Hossain
, Md. Thasinul Abedin

This work is licensed under a Creative Commons Attribution 4.0 International License.
Abstract
Sustainability in the banking sector is considered as a metaphor for a well-built economy. Taking into account its several aspects, efficiency and financial performance always make a strong connection with the resilience and stability of this sector. In light of this notion, this paper finds out the core drivers of financial sustainability in a mixed-method framework. Employing both qualitative and quantitative methods, this paper reveals the key factors of efficiency and financial performance that reinforce the financial sustainability of banks. Rethinking the drivers of efficiency and performance that create a bridge with sustainability always provides an incentive to the regulatory authorities and policymakers to reconsider the paradigm of economic sustainability of the banking sector. This paper also contributes to the existing literature by illuminating the concept of financial sustainability and exploring how banks secure it through some strategic policies that ensure proper maneuvering of the factors responsible for efficiency and financial performance.
Keywords: Banking Sector, Financial Sustainability, Banking Efficiency, Sustainable Financial Performance, Sustainable Banking Practice, Sustainability
Authors' individual contribution: Conceptualization — A.-U.-Z. and M.T.A.; Methodology — A.-U.-Z., M.S.H., and M.T.A.; Software — M.S.H. and M.T.A.; Validation — A.-U.-Z., M.S.H., and M.T.A.; Formal Analysis — M.S.H., and M.T.A.; Investigation — A.-U.-Z.; Resources — A.-U.-Z., M.S.H., and M.T.A.; Data Curation — A.-U.-Z. and M.T.A.; Writing — Original Draft — A.-U.-Z.; Writing — Review & Editing — A.-U.-Z. and M.T.A.; Visualization — A.-U.-Z. and M.T.A.; Supervision — M.S.H. and M.T.A.; Funding Acquisition — A.-U.-Z.
Declaration of conflicting interests: The Authors declare that there is no conflict of interest.
JEL Classification: C33, G21, G32, L25, M21
Received: 11.05.2023
Accepted: 21.08.2023
Published online: 23.08.2023
How to cite this paper: Ashik-Uz-Zaman, Hossain, M. S., & Abedin, M. T. (2023). Route to financial sustainability: Implications in a mixed method framework [Special issue]. Corporate Ownership & Control, 20(3), 386–407. https://doi.org/10.22495/cocv20i3siart13