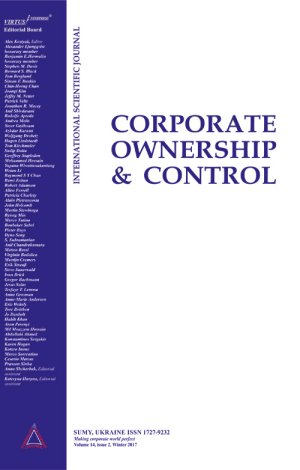 Socio-cultural milieu's effect on prejudicial related-party transactions: Evidence from within the corporate governance setting in China
Download This Article

This work is licensed under a Creative Commons Attribution 4.0 International License.
Abstract
This paper re-visits the topic of self-serving, controlling shareholders seeking to perpetuate their financial and power advantage over minority shareholders, a topic known as the secondary agency problem. This topic has been widely examined using theories of controlling shareholder's concern for rent protection and the market for ownership control. This paper uses evidence of tunnelling and propping practices through related-party transactions that prejudice decisions against the interest of minority shareholders and focuses on identifying financial and voting control conditions that drive such practices. This paper aims to fill a gap in such extant literature by an examination of the socio-cultural factors influencing governance and managerial behaviour towards the enabling of tunnelling and propping practices. It does so in the context of the socio-cultural milieu within the corporate governance framework in China. Theories of transitional markets, agency bonding, and the cultural phenomenon of 'guanxi' are considered, together with corporate governance practices in China, in order to develop measures of factors enabling tunnelling and propping. Secondary data is drawn from a database of listed companies in China. Results reveal that directors and CEOs who were senior cadres from the former state-ownership regime, as well as the guanxi based path dependence of chairs and CEOs, affect the extent of prejudicial related-party transactions in the forms of tunnelling and propping, respectively. The implication of the findings is that securities regulations in China will need widening if adequate protection of minority shareholders' rights is to be assured.
Keywords: Related-party Transactions, Tunnelling, Propping, Controlling Shareholder, Corporate Governance, Socio-cultural
Authors' individual contribution: Conceptualization – M.P.W. and D.C.; Methodology – M.P.W. and D.C.; Formal Analysis – M.P.W. and D.C.; Resources – M.P.W. and D.C.; Validation – M.P.W. and D.C.; Writing – Original Draft – M.P.W.; Writing – Review and Editing – M.P.W. and D.C.
Declaration of conflicting interests: The Authors declare that there is no conflict of interest.
JEL Classification: G34, G40, M4, M41
Received: 07.05.2020
Accepted: 10.07.2020
Published online: 13.07.2020
How to cite this paper: Williams, M. P., & Chill, D. (2020). Socio-cultural milieu's effect on prejudicial related-party transactions: Evidence from within the corporate governance setting in China [Special issue]. Corporate Ownership & Control, 17(4), 234-245. http://doi.org/10.22495/cocv17i4siart2