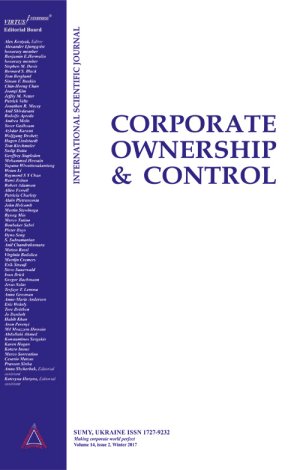 The conceptual structure of internal audit research: A bibliometric analysis during 1991–2020
Download This Article
Rosalinda Santonastaso
, Riccardo Macchioni
, Claudia Zagaria

This work is licensed under a Creative Commons Attribution 4.0 International License.
Abstract
The purpose of this study is to examine the conceptual structure of the field of internal audit (IA) research to provide a comprehensive overview of the academic field. A bibliometric analysis was used to analyse 461 papers from 152 journals between 1991 and 2020 divided into the following two steps. The descriptive statistical analysis highlights the characteristics of the IA research community in terms of publications, productive authors, journals, and countries. Then, the co-word analysis adopting multiple correspondence analysis (MCA) has been performed to analyse the conceptual structure of the IA field. The main results of this study can be summarized as follows. The increase in the number of publications recorded in the past few years highlights a growing academic interest in the IA research. Four main topics are identified by the bibliometric analysis: 1) the oversight governance role of IA; 2) information technology in the IA; 3) internal auditor independence and competence; 4) reliance on the IA. This study contributes to the field by facilitating the identification of research areas and outlining the current state of IA research.
Keywords: Internal Audit, Bibliometric Analysis, Co-Word Analysis, Conceptual Structure
Authors' individual contribution: Conceptualization — R.S. and C.Z.; Methodology — R.S.; Writing — Original Draft — R.S. and C.Z.; Writing — Review & Editing — R.S. and C.Z.; Supervision — R.M.
Declaration of conflicting interests: The Authors declare that there is no conflict of interest.
JEL Classification: M420
Received: 19.10.2022
Accepted: 11.01.2023
Published online: 13.01.2023
How to cite this paper: Santonastaso, R., Macchioni, R., & Zagaria, C. (2023). The conceptual structure of internal audit research: A bibliometric analysis during 1991–2020. Corporate Ownership & Control, 20(2), 34–48. https://doi.org/10.22495/cocv20i2art3