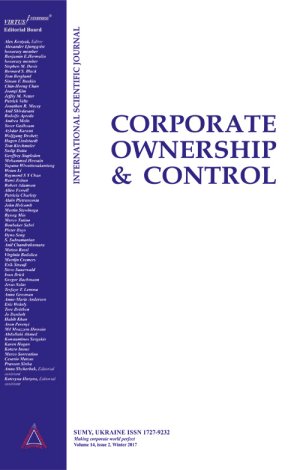 The relationship between earnings management and integrated reporting quality: Board gender diversity as moderator
Download This Article
Patrick Velte

This work is licensed under a Creative Commons Attribution 4.0 International License.
Abstract
This study focuses on the relationship between earnings management and materiality disclosure quality in integrated reporting (IRQ) in an international setting. Moreover, board gender diversity as a moderator variable will be included. A cross-country sample consisting of 696 firm-year observations between 2014 and 2019 is included in this empirical-quantitative study. Correlation and regression analyses are conducted in order to focus on the impact of both accruals-based earnings management (AEM) and real earnings management (REM) on IRQ and the moderating impact of board gender diversity (Blau index). Both AEM and REM are negatively related to IRQ and board gender diversity weakens this relationship. A bidirectional link between earnings management and IRQ is not stated. While prior research did not find significant impacts of accruals attributes on IRQ, our analysis makes a key contribution as the link between AEM, REM, and IRQ is both analysed and stated for the first time. Corporate practice, regulators and researchers should be aware of the notion that earnings quality and integrated reporting quality have many interdependencies and should be discussed together.
Keywords: Integrated Reporting, Gender Diversity, Earnings Management, Accruals, Corporate Governance, Financial Reporting
Authors' individual contribution: The Author is responsible for all the contributions to the paper according to CRediT (Contributor Roles Taxonomy) standards.
Declaration of conflicting interests: The Author declares that there is no conflict of interest.
JEL Classification: M40, M41
Received: 16.06.2022
Accepted: 16.01.2023
Published online: 18.01.2023
How to cite this paper: Velte, P. (2023). The relationship between earnings management and integrated reporting quality: Board gender diversity as moderator. Corporate Ownership & Control, 20(2), 63–74. https://doi.org/10.22495/cocv20i2art5