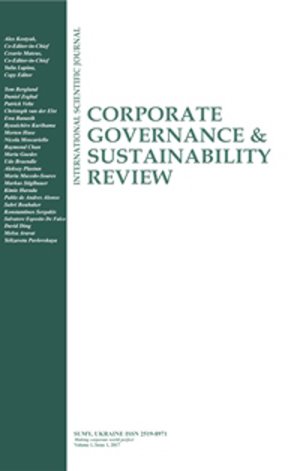 Towards the improvement of the sustainability in sustainable HRM: The role of system strength
Arash Mashhady
Abstract
With the growing interest in sustainability, its incorporation in business management, and its inevitable intersection with the management of human resources, some scholars and practitioners have highlighted the potential benefits of successful implementation of sustainable human resource management as a source of competitive advantage. While this may denote a corporation's capacity to respond to a wider range of needs and requirements beyond economic targets, researchers draw on different theories to point out the possible adverse consequences of adopting such multiple bottom-line approaches for employees. This study builds on ideas from previous research, particularly the works of Bush (2018), Bowen and Ostroff (2004) to 1) examine if the perceived degree of emphasis on a triple-bottom-line (TBL) approach is related to role ambiguity and role conflict; 2) investigate if the elements of human resource management system strength are related to role conflict and role ambiguity and, if these elements can moderate the relationship between the perceived degree of emphasis on TBL approach, role ambiguity, and role conflict. While the findings support the link between taking a TBL approach and role ambiguity and role conflict, it offers evidence that a strong human resource management system may reduce the role ambiguity and role conflict resulting from taking such approaches. Managerial implications and future research directions conclude this research.
Keywords: Sustainable HRM, Human Resource Management, Triple-Bottom-Line, Role Ambiguity, Role Conflict, HRM System Strength
Authors' individual contribution: The Author is responsible for all the contributions to the paper according to CRediT (Contributor Roles Taxonomy) standards.
Declaration of conflicting interests: The Author declares that there is no conflict of interest.
Acknowledgements: The help of the anonymous private company that helped greatly with conduction of this research by allowing access to their database is highly appreciated.
JEL Classification: M140, M500, Q560
Received: 13.07.2020
Accepted: 10.03.2021
Published online: 12.03.2021
How to cite this paper: Mashhady, A. (2021). Towards the improvement of the sustainability in sustainable HRM: The role of system strength. Corporate Governance and Sustainability Review, 5(1), 65-74. https://doi.org/10.22495/cgsrv5i1p7

The payment can be made with credit/debit card via secure payment system provided by Ukrainian processing center. During the payment, you will probably receive an SMS from your bank with the password to confirm the transaction. The price in Euro is an oriented one. The payment will be charged in UAH according to the exchange rate of your payment card provider. Once the payment is made we will process it ASAP and our representative will contact you to deliver the service/confirm the payment.