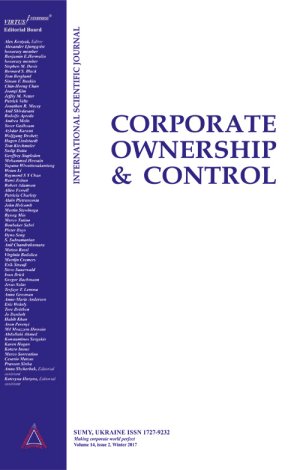 UKRAINIAN BANKING SYSTEM UNDER REVIEW. INTERACTION BETWEEN CORPORATE GOVERNANCE AND BANK PERFORMANCE: STAKES ON OWNERSHIP TYPE?
Download This Article
Maryna Brychko
, Kateryna Kondrunina, Olga Neselevska
Abstract
The aim of this paper is to investigate the link between ownership type of the bank and its corporate governance and to find an empirical background for the hypothesis about relationships between corporate governance effectiveness and bank's performance. The article also covers some theoretical backgrounds concerning regulation in banking sphere. The results of the study reveal that there is direct relationship between ownership type and corporate governance, while, on the contrary, there is no link between corporate governance and bank performance. Study findings provide the math-based recommendations to the national regulator about capital requirements.
Keywords: Financial Crisis, Banking Sector, Corporate Governance, Ownership, Bank Performance, Regulation in the Banking Sphere, ROE, ROA, ESP, LDR, Capital
How to cite this paper: Brychko, M., Kondrunina, K., & Neselevska, O. (2011). Ukrainian banking system under review. Interaction between corporate governance and bank performance: Stakes on ownership type? [Special issue]. Corporate Ownership & Control, 8(2-2), 73-101. https://doi.org/10.22495/cocv8si2p3