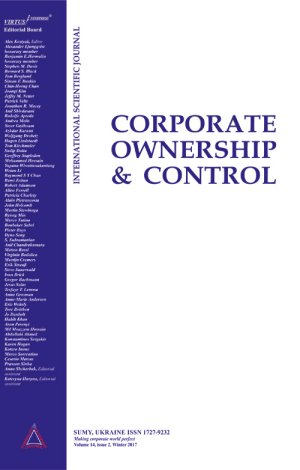 Voluntary disclosure and free cash flow in family French firms
Download This Article

This work is licensed under a Creative Commons Attribution 4.0 International License.
Abstract
This research investigates the governance role of voluntary disclosures especially in reducing agency problems measured by the level of free cash flow (FCF). In addition, it also shows the moderating effect of family ownership and governance mechanisms on this relation. Our research was conducted on a sample of 138 listed French firms between 2009 and 2013. To avoid the endogeneity problem caused by the voluntary disclosure variable we used the 2SLS regression method. The results show, on the one hand, that transparency provided by voluntary disclosures reduces the level of FCF and by the way agency problems. But family owners tend to accumulate FCF. On the other hand, the governance role of voluntary disclosure turns to be ineffective in family firms. This suggests a high risk of expropriation of minority shareholders by family ones. In addition, we demonstrate that governance mechanisms, especially board independence, gender diversity and audit committee independence, contribute to the strengthening of the governance role of voluntary disclosure.
Keywords: Voluntary Disclosure, Free Cash Flow, Family Ownership, Board Characteristics
Authors' individual contribution: Conceptualization – M.J. and F.L.; Methodology – M.J. and F.L.; Software – M.J. and F.L.; Validation – M.J. and F.L.; Formal Analysis – M.J. and F.L.; Investigation – M.J. and F.L.; Resources – M.J. and F.L.; Data Curation – M.J. and F.L.; Writing – M.J. and F.L.; Supervision – M.J. and F.L.
Declaration of conflicting interests: The Authors declare that there is no conflict of interest.
JEL Classification: D22, G32
Received: 30.05.2020
Accepted: 28.08.2020
Published online: 01.09.2020
How to cite this paper: Jouirou, M., & Lakhal, F. (2020). Voluntary disclosure and free cash flow in family French firms [Special issue]. Corporate Ownership & Control, 17(4), 391-398. http://doi.org/10.22495/cocv17i4siart15