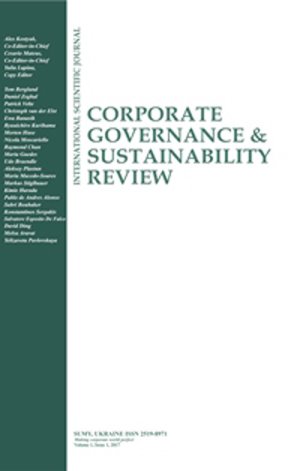 An index to study corporate governance in banks in India
Abstract
There are many factors that affect corporate governance (CG). It is highly difficult to comprehend corporate governance and define it. Yet, research is imperative to understand the changing specific needs of good corporate governance practices and the impact of such practices. As banks have special governance needs, in this study the corporate governance of banks in India has been studied with the help of corporate governance index (GCI) especially designed for banks. Following the method used by Ararat, Black, and Yurtoglu (2017) to investigate the effectiveness of corporate governance, the index was divided into six sub-indices and to test the index it was used to find the correlation of CG practices with the banks profitability measured in terms of return on assets (RAO) and net interest margin (NIM) as dependent variables. The fixed regression model was run to know the relationship between the sub-indices and the dependent variables. Apart from the CG index, capital adequacy ratio (CAR) and Net NPA ratio were taken as independent variables. A weak correlation was found between CG and ROA and NIM that contributes to the findings of Fallatah and Dickins (2012).
Keywords: Corporate Governance, Corporate Governance Index, Profitability, Firm Value
Authors' individual contribution: Conceptualization – S.S. and N.P.; Methodology – S.S.; Formal Analysis – S.S.; Writing – Original Draft – S.S. and N.P.; Writing – Review & Editing – S.S. and N.P.
Declaration of conflicting interests: The Authors declare that there is no conflict of interest.
JEL Classification: G30, G32, G34
Received: 08.04.2020
Accepted: 29.05.2020
Published online: 21.07.2020
How to cite this paper: Sandhya, S., & Parashar, N. (2020). An index to study corporate governance in banks in India. Corporate Governance and Sustainability Review, 4(2), 40-49. https://doi.org/10.22495/cgsrv4i2p4

The payment can be made with credit/debit card via secure payment system provided by Ukrainian processing center. During the payment, you will probably receive an SMS from your bank with the password to confirm the transaction. The price in Euro is an oriented one. The payment will be charged in UAH according to the exchange rate of your payment card provider. Once the payment is made we will process it ASAP and our representative will contact you to deliver the service/confirm the payment.