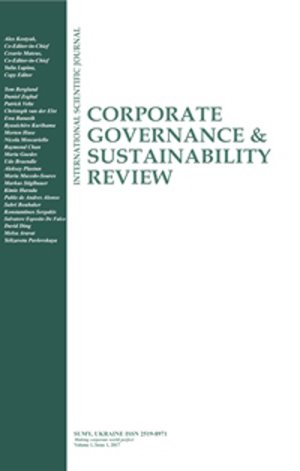 CORPORATE VOLUNTARY DISCLOSURES AND BOARD INDEPENDENCE OF INDIAN COMPANIES
Nidhi Sharma Sahore
, Anshul Verma
Abstract
Annual reports apart from being a means of communication are used as a vehicle of building and improving corporate image. Even the government and its institutions presiding over the corporate sector emphasize on additional disclosures related to corporate governance, corporate social responsibility, corporate sustainability etc. apart from more voluntary financial disclosures to enhance the investor confidence at large. There are a number of studies which argue, corporate governance and its mechanisms or proxies act as catalyst for increased voluntary disclosures while there are a few studies which negate or nullify its role in enhancing voluntary disclosures. Hence it is important at this juncture to find how it is currently placed in Indian context. The findings of this study suggest the lowering importance of proportion of independent directors in the boards of the companies. The variation in the extent of corporate disclosures over a longer period of time is not caused much due to board independence. However the role of board independence and its consistently positive association with voluntary financial and voluntary non-financial disclosures is an encouraging precursor for corporate firms and their varied stakeholders.
Keywords: Voluntary Disclosures, Corporate Governance, Board Independence, Financial Disclosures, Non-financial Disclosures
JEL Classification: G00, G18, G28, G38
Received: 30.01.2019
Accepted: 01.04.2019
Published online: 09.04.2019
How to cite this paper: Sahore, N. S., & Verma, A. (2019). Corporate voluntary disclosures and board independence of Indian companies. Corporate Governance and Sustainability Review, 3(1), 42-50. https://doi.org/10.22495/cgsrv3i1p4

The payment can be made with credit/debit card via secure payment system provided by Ukrainian processing center. During the payment, you will probably receive an SMS from your bank with the password to confirm the transaction. The price in Euro is an oriented one. The payment will be charged in UAH according to the exchange rate of your payment card provider. Once the payment is made we will process it ASAP and our representative will contact you to deliver the service/confirm the payment.