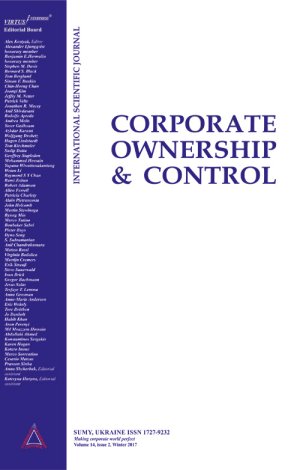 DOES AUDIT COMMITTEE INDEPENDENCE IMPROVE INFORMATION CONTENT OF EARNINGS UNDER THE SARBANES-OXLEY ACT?
Download This Article
Loretta Baryeh, Jui-Chin Chang
, Huey-Lian Sun
Abstract
We examine the relationship between information content of earnings and the disclosure of audit committee independence under the Sarbanes-Oxley Act (SOX) and the Securities Exchange Commission (SEC) rulings. Specifically, we are interested in the difference in information content of earnings measured by earnings response coefficients between non-U.S. and U.S. firms in 2002 due to the fact that non-U.S. firms were not required to comply with the audit committee independence requirements while most U.S. firms were already in compliance with the rulings. Using 82 non-U.S. firms and 82 matched U.S. firms from the New York Stock Exchange (NYSE), we find evidence that the U.S. firms have higher information content of earnings than the non-U.S firms in 2002. The information content of earnings is found to be positively related to board and audit committee independence. For non-U.S. firms, we also find that early compliance with audit committee independence requirements is favorably recognized by the market. Our findings provide evidence that disclosures of fully independent audit committee and other corporate governance information under the SOX regulations as well as the SEC rulings actually improve information content of earnings.
Keywords: Auditor Committee Independence, SOX, Earnings Quality, Information Content of Earnings
How to cite this paper: Baryeh, L., Chang, J.-C., & Sun, H.-L. (2008). Does audit committee independence improve information content of earnings under the Sarbanes-Oxley act? Corporate Ownership & Control, 5(2-1), 168-178. https://doi.org/10.22495/cocv5i2c1p2