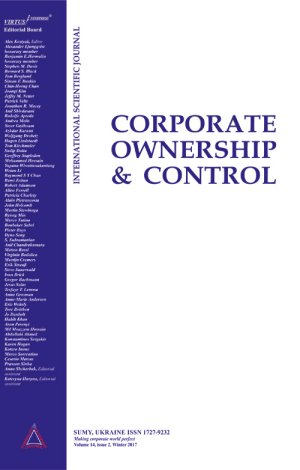 DOES PYRAMIDING HAVE AN IMPACT ON FIRM'S CAPITAL STRUCTURE DECISION AMONG MALAYSIAN DISTRESS COMPANIES?
Download This Article
Abstract
It is documented by La Porta, Lopez and Shleifer (1999) that ultimate owners around the world usually control an array of affiliated companies through hierarchical intermediary corporations forming pyramidal holdings. A direct result of this pyramidal ownership structure is divergence of cash flow rights from control rights in the hand of the largest shareholders (Claessens, Djankov and Lang 2000). This paper investigates the impact of this separation of cash flow rights from control rights resulting from these pyramidal forms of ownership structure on firm's capital structure. In particular, our objective is to examine whether such separation affects the financing decisions among Malaysian listed distressed companies. Even though it is not conclusive our findings somewhat lend support to the leverage-increasing non-dilution entrenchment effect on corporate leverage, whereby the separation of cash flow rights and control rights leads to the increase of leverage among the distressed companies. Consequently, excessive use of leverage in order to protect ultimate owner's dominance in these companies then leads to disastrous financial valuation.
Keywords: Control Rights, Ownership Structure, Capital Structure, Malaysian Companies
How to cite this paper: Mat Nor, F., & Bany-Ariffin, A. N. (2005). Does pyramiding have an impact on firm's capital structure decision among Malaysian distress companies? Corporate Ownership & Control, 2(4), 93-106. http://doi.org/10.22495/cocv2i4p9