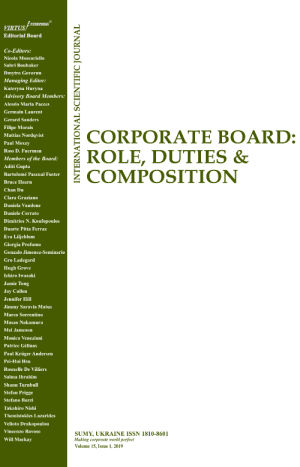 Financial crisis and corporate governance: The role of internal audit in the Greek context
Download This Article
Andreas G. Koutoupis
, Michail Pazarskis
, Grigorios Lazos, Ioannis Ploumpis

This work is licensed under a Creative Commons Attribution 4.0 International License.
Abstract
In this paper, our purpose is to examine the relationship between the role of Internal Audit (IA), Corporate Governance (CG) and the Audit Committee (AC) in the recent financial crisis in Greece and to investigate the contribution of IA to CG structures as well as its possible, the IA's role during the financial crisis in Greece. Moreover, little research has been conducted based on the relationship between corporate governance and internal audit during the financial crisis in case of Greece. For this reason, we conducted a survey, using questionnaires, which were sent to the listed companies of the Athens Stock Market. Out of a total of 192 listed companies on the Athens Stock Exchange, the relevant questionnaires were sent to 100 companies. Those companies were selected firstly based on their total turnover and secondly due to the availability of information from company websites such as employees' numbers and Internal Audit Department Structures. Our conclusion was that Internal Audit adds value to the organization and it can also help the senior management towards the accomplishment of the organizational goals.
Keywords: Audit Committees, Financial Crisis, Greek Corporate Governance, Internal Audit Function, Internal Controls, Internal Audit Quality
Authors' individual contribution: Conceptualization – A.K.; Validation – A.K.; Formal Analysis – M.P.; Investigation – G.L.; Resources – I.P.; Data Curation – A.K.; Writing – Original Draft – M.P., G.L., and I.P.; Writing – Review & Editing – A.K.; Visualization – I.P.; Supervision – A.K.; Project Administration – I.P.
JEL Classification: G30, G39
Received: 12.03.2019
Accepted: 06.05.2019
Published online: 13.07.2019
How to cite this paper: Koutoupis, A. G., Pazarskis, M., Lazos, G., & Ploumpis, I. (2019). Financial crisis and corporate governance: The role of internal audit in the Greek context. Corporate Board: Role, Duties and Composition, 15(2), 45-55. https://doi.org/10.22495/cbv15i2art5