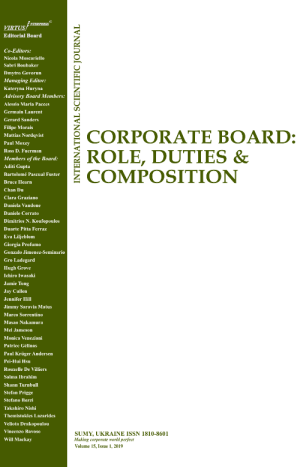 HOW IS FIRM PERFORMANCE RELATED TO FAMILY OWNERSHIP IN MALAYSIA AND DOES BOARD INDEPENDENCE MODERATE THE RELATIONSHIP?
Download This Article
Sin-Huei Ng
, Tze San Ong
, Boon Heng Teh, Wei Ni Soh
Abstract
This paper explores whether the performance of publicly-listed family-controlled firms in Malaysia is related to the extent of the families' ownership. It also explores whether there are any moderating effects from the various attributes of board independence on the ownership-performance relationship of these firms. The findings indicate that increasing families' ownership is related to better firm performance under the condition that the families do not have absolute ownership and control over their firms. However, giving more control via majority ownership that causes the families to become the only dominant party might enhance their ability to expropriate and cause firm performance to deteriorate. Therefore, proposal to increase ownership as a mean to reduce the classical agency-theory problems should be caveated under the principal-principal perspective. It is also found that the various board independence attributes do not exhibit any moderating influence on the family ownership-firm performance relationship. This finding may indicate the powerlessness of the boards of director in Malaysia when encountered with the influential controlling families whom the directorship tenures and opportunities of the non-family directors depend on. Decisions made by the controlling families which have bearing on firm performance may not have been effectively counter checked by the boards due to the lack of truly independent nature of the boards.
Keywords: Family-Controlled Publicly-Listed Firms, Firm Performance, Board Independence, Family Ownership, Agency Theory, Malaysia
How to cite this paper: Ng, S.-H., Ong, T. S., Teh, B. H., & Soh, W. N. (2015). How is firm performance related to family ownership in Malaysia and does board independence moderate the relationship? Corporate Board: role, duties and composition, 11(2), 21-35. https://doi.org/10.22495/cbv11i2art2