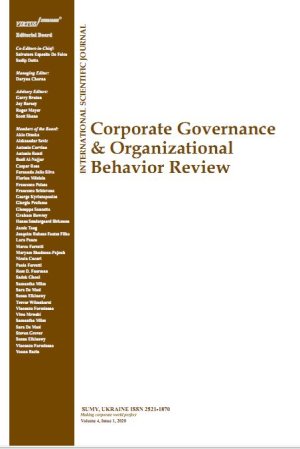 High-performance work systems and work engagement: The role of feeling trusted by supervisor
Download This Article
Asri Santosa,   Suharnomo, Mirwan Surya Perdhana

This work is licensed under a Creative Commons Attribution 4.0 International License.
Abstract
This study examines the role of feeling trusted within the linkage between high-performance work systems and work engagement. Feeling trusted by a supervisor is believed to be an indicator that employees are valued by an organization (Pfeffer, 1998), but that research has not been completed yet (Baer et al., 2015). Data were collected from 107 employees who work at financial services companies in Jakarta, Indonesia. Structural equation modeling (SEM) was used to explore the linkages between high-performance work systems to work engagement. Later, the Sobel test was used to examine the mediation role from feeling trusted. This research found that high-performance work systems have a positive relationship between feeling trusted and work engagement. Surprisingly, feeling trusted has a negative impact on work engagement. Last, this research revealed that feeling trusted cannot lead high-performance work systems to improve work engagement. Despite this research, being conducted in a multicultural country, it has a paucity of cultural aspects analysis. Accordingly, future research should consider the cultural aspects to advance this form of research further. The theoretical and practical contributions will be discussed later.
Keywords: Work Engagement, High-Performance Work Systems, Feeling Trusted
Authors' individual contribution: Conceptualization — A.S. and M.S.P.; Methodology — S.; Investigation — A.S. and M.S.P.; Writing — Original Draft — A.S.; Writing — Review & Editing — S. and M.S.P.; Supervision — S.
Declaration of conflicting interests: The Authors declare that there is no conflict of interest.
JEL Classification: J24, J28, M54
Received: 22.12.2022
Accepted: 25.07.2023
Published online: 26.07.2023
How to cite this paper: Santosa, A., Suharnomo, & Perdhana, M. S. (2023). High-performance work systems and work engagement: The role of feeling trusted by supervisor [Special issue]. Corporate Governance and Organizational Behavior Review, 7(3), 260–266. https://doi.org/10.22495/cgobrv7i3sip3