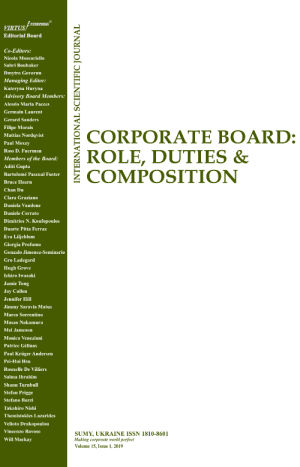 How does board structure impact on firm performance in the UK?
Download This Article
Ahmad Alqatan
, Imad Chbib
, Khaled Hussainey

This work is licensed under a Creative Commons Attribution 4.0 International License.
Abstract
The aim of this paper is to examine whether or not the structure of the board of directors and, in particular, board size, independence and remuneration have an impact on firm performance. The sample examined is UK FTSE 100 non-financial companies using data from the period 2012 to 2015. A regression analysis has been used concluding a significant positive correlation between board remuneration and firm performance, namely Return on Assets and Tobin's Q. The study also concluded a positive correlation between board size and ROA, and between board independence and Tobin's Q. Additionally, a significant negative correlation between the control variables (i.e. company size and industry) and Return on Assets.
Keywords: Corporate Governance Code (CGC), Board Structure, Board Size, Board Independence, Board Remuneration, Return on Assets (ROA), Tobin's Q (TQ), UK
JEL Classification: G38, G21, L25, J53
Received: 05.03.2019
Accepted: 06.05.2019
Published online: 31.05.2019
How to cite this paper: Alqatan, A., Chbib, I., & Hussainey, K. (2019). How does board structure impact on firm performance in the UK? Corporate Board: Role, Duties and Composition, 15(2), 18-27. https://doi.org/10.22495/cbv15i2art2