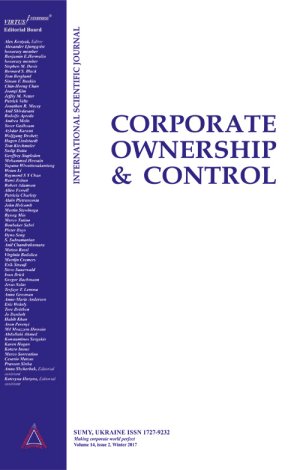 ITALIAN CORPORATE GOVERNANCE RATING MODEL: IS IT USEFUL IN TESTING ALL TYPES OF CORPORATE GOVERNANCE?
Download This Article
Francesca Magli
, Alberto Nobolo
, Matteo Ogliari
Abstract
In our empirical analysis the evidence found fully reflects the theoretical characteristics studied in small and medium-sized enterprises rather than large enterprises. The dominant role of the shareholder in small and medium-sized enterprises and the type of ownership composition and structure are fundamental. The analysis of multi-case studies, also, explains the higher scores obtained from the listed companies under the heading of Shareholders protection. These enterprises should be able to provide the means to communicate and should have greater ability to protect shareholders.
Keywords: Corporate Governance, Rating Model
How to cite this paper: Magli, F., Nobolo, A., & Ogliari, M. (2014). Italian corporate governance rating model: Is it useful in testing all types of corporate governance? [Conference issue]. Corporate Ownership & Control, 11(3-1), 321-335. https://doi.org/10.22495/cocv11i3conf1p2