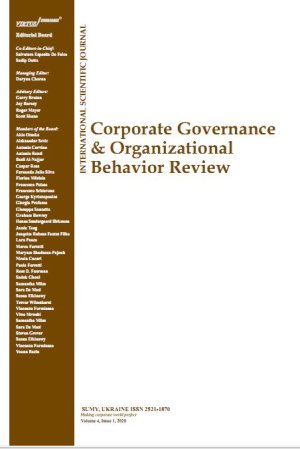 Implementation of a system of benefits and incentives in high-tech companies: Opportunities for Ukrainian case
Download This Article
Mykola Inshyn
, Olena Pavlichenko
, Tetiana Egorova-Lutsenko, Oksana Epel, Andrii Stratiuk

This work is licensed under a Creative Commons Attribution 4.0 International License.
Abstract
Current global trends in the field of rapid population growth and urbanization have led to an increase in the labor market. The development of industrial cooperation has led to an increase in the number of science-intensive specialties resulting from economic activity, which has led to an increase in scientific and technological potential through the work of high-tech companies as well as to the emergence of some difficulties in the labor conditions of their employees (Beliakov et al., 2019; Blumen, 2015). The paper's value relates to the possibility to increase the productivity and competitiveness of companies through employee satisfaction, as well as ensuring proper compliance with labor laws in the context of the legal link between the employer and the employee (Liashenko et al., 2021; Makedon et al., 2019). The international legal framework in the field of labor relations has been analyzed. The legislative experience of the United States of America, Great Britain, China, Ukraine, Portugal, and the Russian Federation in the implementation of the system of employee benefits and incentives has also been considered. The states were selected by the type of legal system based on the qualitative analysis method. The experience of some hi-tech companies in ensuring proper working conditions has been analyzed with the prospects for their implementation in Ukrainian realities.
Keywords: Efficiency, Hi-Tech Companies, Labor Legislation, Legislative Experience, Motivation and Productivity of the Company Employees, Scientific and Technical Revolution
Authors' individual contribution: Conceptualization — M.I.; Methodology — O.E.; Software — O.P.; Validation — M.I., O.P., T.E.-L., O.E., and A.S.; Investigation — A.S.; Resources — O.E.; Data Curation — T.E.-L.; Writing — Original Draft — O.P., T.E.-L., and A.S.; Writing — Review & Editing — M.I. and O.E.; Visualization — T.E.-L.; Supervision — O.P.; Project Administration — M.I.; Funding Acquisition — A.S.
Declaration of conflicting interests: The Authors declare that there is no conflict of interest.
JEL Classification: J81, K31, O15
Received: 18.10.2022
Accepted: 15.03.2023
Published online: 17.03.2023
How to cite this paper: Inshyn, M., Pavlichenko, O., Egorova-Lutsenko, T., Epel, O., & Stratiuk, A. (2023). Implementation of a system of benefits and incentives in high-tech companies: Opportunities for Ukrainian case. Corporate Governance and Organizational Behavior Review, 7(2), 38–49. https://doi.org/10.22495/cgobrv7i2p4