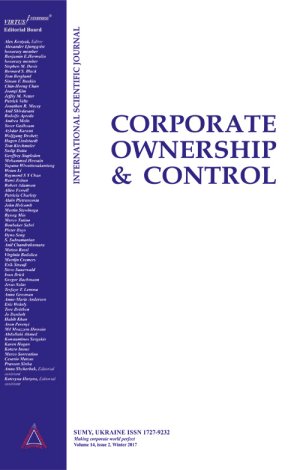 Institutional environment, competencies and firm export performance: A study of the emerging country
Download This Article
Areej Aftab Siddiqui
, Parul Singh

This work is licensed under a Creative Commons Attribution 4.0 International License.
Abstract
The study is an attempt to examine the determinants and impact of export propensity and export intensity for firm-level performance in India. The factors determining export propensity are political stability, corruption, and competition from the informal sector while the determinants of export intensity in the present study are identified as a skill of the labour force, the technological capability of a firm, and foreign ownership of technology in a firm in India. A two-stage Heckman selection model has been advanced to investigate the linkage between the export performance of Indian firms with the home institutional environment and firm competencies. Firm-level data of approximately 8,000 Indian firms are used as available from the World Bank's Enterprise Surveys (WBES) database. The results indicate that political stability and competition effect export propensity of Indian firms while export intensity is impacted by access to technology and employing skilled labour. The study has important theoretical implications in terms of understanding the exporting behaviour of firms. It indicates that the decision of firms to export and their export performance are interlinked. It is affirmed that export intensity is dependent on firm-specific competencies while institutions indirectly influence the decision of firms to export. The policy measures of Skill India and Make in India strongly favour increased access to the skilled labour force and strengthening the domestic industry which may lead to an increase in the export intensity of Indian firms. The recent institutional measures adopted favour a stable environment of doing business as well as providing firms opportunities to focus and leverage their competencies in the best possible manner. The current nascent steps of policy reforms need to be aggressively implemented for enhanced export capabilities of Indian firms.
Keywords: Institutional Environment, Firm Competencies, Export Performance, India, Firm Analysis
Authors' individual contribution: Conceptualization – P.S.; Methodology – A.A.S.; Validation – P.S.; Formal Analysis – A.A.S.; Investigation – A.A.S.; Writing – Original Draft – P.S.; Writing – Review & Editing – A.A.S. and P.S.
Declaration of conflicting interests: The Authors declare that there is no conflict of interest.
JEL Classification: M16, M21,L22, L25
Received: 05.11.2020
Accepted: 08.02.2021
Published online: 12.02.2021
How to cite this paper: Siddiqui, A. A., & Singh, P. (2021). Institutional environment, competencies and firm export performance: A study of the emerging country. Corporate Ownership & Control, 18(2), 169-179. https://doi.org/10.22495/cocv18i2art14