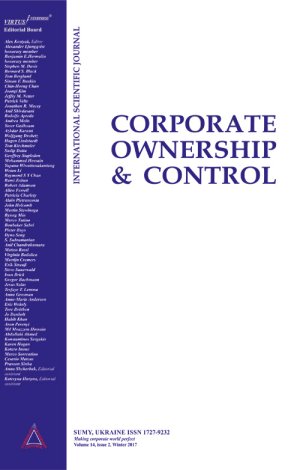 Integrated reporting and environmental disclosure: Is natural capital neglected?
Download This Article

This work is licensed under a Creative Commons Attribution 4.0 International License.
Abstract
We have entered a new geologic era, the Anthropocene, also defined as the Age of Humans, in which humans are doubtless responsible for ensuring sustainable development. Further research is required to assess actions carried out by business organizations with reference to environment preservation. Our paper contributes to the academic discussion on the role of integrated reporting with a focus on natural capital. We propose to investigate whether and how companies report about natural capital in their integrated reports (IR), in the domain of South Africa. In our study, we investigate the type of information and its positioning in the IR and, notably, in the business model (BM). Our paper provides many contributions to literature. First, it exposes the extent and type of information that can be provided on natural capital through IR. Moreover, the paper contributes to the debate about the efficacy of IR to really enhance sustainability practises.
Keywords: Natural Capital, Integrated Report, Business Model, Sustainability, Africa
Authors' individual contribution: Conceptualization – L.G. and P.V.; Methodology – L.G. and P.V.; Validation – L.G. and P.V.; Investigation – L.G. and P.V.; Supervision – L.G. and P.V.
Declaration of conflicting interests: The Authors declare that there is no conflict of interest.
JEL Classification: M40, M16, A13
Received: 04.11.2020
Accepted: 22.01.2021
Published online: 26.01.2021
How to cite this paper: Gelmini, L., & Vola, P. (2021). Integrated reporting and environmental disclosure: Is natural capital neglected? Corporate Ownership & Control, 18(2), 131-139. https://doi.org/10.22495/cocv18i2art10