New issue of the Corporate Governance and Organizational Behavior Review journal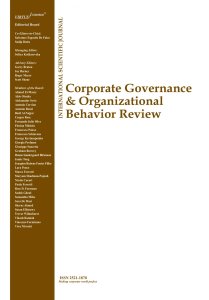 The editorial team of Virtus Interpress is delighted to present a special issue of the journal Corporate Governance and Organizational Behavior Review (volume 7, issue 2, special issue).
This issue is comprised of 18 high-quality papers that explore a range of topics related to corporate governance and organizational behavior, including organisational learning, innovation and change, sustainability, managers, economic vision, corporate social responsibility (CSR), overconfidence, risk-shifting, risk-avoidance, trust, ability, virtue, integrity, quality of financial information, human capital, organizational performance, centralization and decentralization, healthcare cost, health outcomes, informal traders challenges, local economic development, government support, job opportunities, macroprudential regulation, macroeconomic policy, stabilization, policy-making, financial crises, sustainability reporting, strategic crisis response, enterprise risk management (ERM), COVID-19, employee well-being, construction firms, green accounting, environmental accounting, SME, intention, eco-design, self-esteem, job satisfaction, management strategy, exchange rate volatilities, returns, persistence, transition probabilities, adoption, etc.
The full issue of the journal is available at the following link .
Thokozani Patmond Mbhele's study aimed to establish whether a centralised or decentralised supply chain distribution system supports expansion to the African marketplace, assessed the challenges of inventory positioning and availability on the existing outbound and inbound product flow systems across the African continent, and examined the interrelated strategic distribution centre performance level to develop the supply chain distribution value proposition model.
The study by Abubakar Idris, Michael Nwoko, Shehu Salisu Umar, Emhenya A. Iyoha, and Kenneth T. Maduako evaluated the cost and outcomes of healthcare services in some African countries with a particular focus on the sub-Saharan African (SSA) regions and carried out analyses of fixed, random, and dynamic effect of lagged cost of healthcare on health outcomes.
Mukondeleli Angelina Ramasimu, Ntsieni Fitzgerald Ramasimu, and Tshilidzi Eric Nenzhelele investigate the contributions and challenges of informal traders in local economic development in Thulamela municipality.
Anas Ahmad Bani Atta, Jamileh Ali Mustafa, Saif Saleh Al-Qudah, Eman Massad, and Ahmad Bani Ahmad investigate the effect of macroprudential regulation on banks' profitability during financial crises, find out whether the instruments of the Central Bank of Jordan (CBJ) enhance the performance of the Jordanian banking sector in terms of increasing banks' profitability and reducing banking sector exposure to financial crisis vulnerability.
The paper by Zuraidah Mohd Zam, Haslinda Yusoff, Rina Fadhilah Ismail, and Hasan Fauzi presents the concept of sustainability reporting as a strategic crisis response mechanism and proposes a model and matrix that maps the stakeholder engagement disclosure strategy with quality disclosure.
Lucia Ndelu and Vuyokazi Mtembu investigated possible physical and mental health risks to funeral industry employees exposed to death and funerals exacerbated in times of pandemics.
Thi Minh Phuong Nguyen, Hong Hanh Ha, and Manh Dung Tran assess the impact of all factors on the application of green accounting in Vietnamese construction firms, and data is collected from 243 survey questionnaires of managers and accountants of Vietnamese construction firms.
Agus Masrukhin, Ang Swat Lin Lindawati, Bambang Leo Handoko, and Mohamad Heykal examine the factors which influence small and medium-sized enterprises' (SMEs) intention to adopt eco-design.
Aferdita Ahmeti and Gordana Stankovska determine the relationship between self-esteem and job satisfaction among 150 full-time academic employees, employed at three state universities in the Republic of Kosovo and the Republic of North Macedonia.
Research by Yana Suchikova, Natalia Tsybuliak, Hanna Lopatina, Anastasiia Popova, Sergii Kovachov, Olha Hurenko, and Ihor Bogdanov highlights the impact of the Russian-Ukrainian war on the research activity at the university that has been under temporary occupation.
David Umoru, Solomon Edem Effiong, Enyinna Okpara, Robert Ike Eke, Davidson Iyayi, Cletus Ukon Nwonu, Muhammed Adamu Obomeghie, Anna Nuhu Tizhe, and Kasimu Eshemogie evaluate the channel of volatilities and returns between global oil prices and exchange rates of 21 developing countries.
T. Muhammad Ghufran, Muhammad Hasbi Zaenal, and Endri Endri analyze the efficiency level of Baitul Mal districts/cities of Aceh Province in Indonesia.
Ngoc Hung Tran examines the impact of the size of the enterprise, corporate governance, owner structure, board gender diversity, business industry, innovation, and knowledge of environmental, social, and governance (ESG) issues on CSR adoption.
Londeka Xulu and Sanjana Brijball Parumasur's paper aims to understand the talent management challenges faced by organisations in dire need of quantitative analysts.
Abdulwahab Baroun, in his research, examines how skills, attitudes, and knowledge affect organizational performance among Kuwait's employees who work in the private gas and oil sector.
The study by Ranti Utami and Doddy Setiawan uses three dimensions — ability, virtue and integrity, and accounting information quality — to demonstrate trust's impact on SMEs' access to finance in Tanjungpinang.
S. Martono, Arief Yulianto, and Angga Pandu Wijaya, in their research, analyze the influence of the debt-to-asset ratio (DAR) and managers' overconfidence level on business risk.
Jeena Ann John, Danilo C. Diotay, Jayendira P. Sankar, and Sayed Haytham Yaseen Alawi's study focused on identifying variables that could affect the sustainability of banks.
We wish you pleasant and informative reading!