New issue of the Corporate Governance and Sustainability Review journal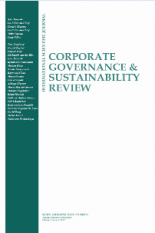 We are delighted to present you the second issue (volume 3, issue 2) of the journal "Corporate Governance and Sustainability Review" in 2019 that is represented by the scholars from France, Portugal, the Netherlands, India, Kenya, Hong Kong, China, the USA. The papers published in this issue are devoted to: corporate governance, firm performance and executive compensation; social performance rating in co-operatives; sustainable development goals, CSR, consumer data protection policy; stock option plans; online customers' rating and firms' performance in the hotel industry; reputational threats and their financial consequences for decision-makers; climate change governance mechanisms and sustainable food productions.
Bertrand Lemennicier, Joël Hermet, and Duraisamy Palanigounder test and examine the impact of governance and firm performance, by using descriptive and econometric analysis, on executive compensation in the defense firms in comparison with the firms from a "peer group" of the non-defense sector.
Daniel Kinyuira focuses on the social performance rating in savings and credit co-operatives societies in Kenya. This study enriches the scanty research on social performance management in co-operatives and provides helpful suggestions to co-operatives in order to manage stakeholders' social needs better and consequently improve the sustainable performance of cooperatives.
Shirley Mo-Ching Yeung provides a model for promoting a sustainable development mindset with employee CSR policy/consumer data protection relayed social policy for advancing quality management examining the social dimension policy of 10 China-based listed companies (2006 to 2017) in the Bloomberg database.
João Silva and André Feiteiro research stock options plans as a solution to agency issues and review a number of similar instruments as well as different categories of stock options.
Md. Jahidur Rahman and Xu Yufei study the impact of online rating on hotel performance in China. The empirical research has marginally investigated whether hotels are able to appropriate the economic value that the use of social media features and infomediation platforms can bring.
Jesus R. Jimenez-Andrade and Timothy J. Fogarty analyze the impact of equity-based incentive compensation mechanisms on executives' responses to scandals. The findings provide information regarding managerial responses to reputationally sensitive events, suggesting that equity compensation packages can increase the firms' risk exposure because of the executives' behavioral implications and then emphasizing the "skin in the game" aspect.
Robert Ddamulira addresses and examines the governance challenges associated with managing the impacts of climate change on food production, with a major focus on East Africa.
Eric Pichet presents an interesting review of the book titled "Challenges and Opportunities in Italian Corporate Governance", which was edited by Salvatore Esposito De Falco, Federico Alvino, Nicola Cucari, Luigi Lepore (Virtus Interpress, 2019)
The full issue of the journal you may view at the following link.
We wish you pleasant and informative reading!