New issue of the Journal of Governance and Regulation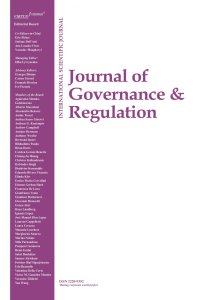 The editorial team of Virtus Interpress is glad to publish the new issue of the Journal of Governance and Regulation.
The articles presented in this issue investigate a broad variety of topics within the corporate governance and regulation domain, such as investments, financial crisis, disposable income, taxes, GDP, operational performance, board of directors, microinsurance development, corporate social responsibility, bank regulation, stock price, market share, price-earnings ratio, return on assets, inflation, money supply, competitiveness, profitability, audit committee, firm performance, financial companies, innovation management, disruptive innovation, sustainable development, government policies, state regulation, leadership, unemployment, corporate law, corruption, international transparency, etc.
The full issue of the journal is available at the following link .
Silas Mukwarami, Michael Bamidele Fakoya, and Mohamed Saber Tayob examine the relationship between corporate governance practices on the public sector's investment in water management.
Nikolaos Zisoudis, Eleni Zafeiriou, Alexandros Garefalakis, Ioannis Passas, and Konstantina Ragazou try to unveil the role of a retail market firm in the developing economy of Greece.
Jamal Barafi, Mohammad Amin Alkrisheh, Ali Hadi Al-Obeidi, Saad Alsaadi, and Waleed Fuad Mahameed study important anti-corruption instruments such as international and regional organizations, and governmental and non-governmental bodies.
Majd Mohammad Omoush focuses on the impact of logistic management practices on the performance of their operations using the sector of road transport companies in Jordan.
Wawan Setiawan and Albert analyze the extent to which policy adjustments are made, the main targets, and indicators of success and examine possible deviations that occur as a result of policy adjustments in the local city government.
Nizar Yousef Ahmed Naim and Nora Azureen Abdul Rahman conduct a thematic analysis of the principles and guidelines of the OECD, BCBS, and IFSB on board of directors' responsibilities.
Ani Purwanti, Muh. Afif Mahfud, Kadek Cahya, Susila Wibawa, and Aga Natalis aim to find out the policy of gender mainstreaming for women in the fishery industry sector.
Edward A. Osifodunrin and José Dias Lopes deal with the question of what fosters/impedes regulatory effectiveness and the need to sustainably manage these determinants in order to promote formal microinsurance development.
Islam Qerimi, Ahmet Maloku, and Elda Maloku observe prevailing scientific literature, particularly in the legal field, regarding the application of customary law from the ancient period to the new time.
Gerrit van der Waldt and David J. Fourie outline the framework dimensions of an evidence-based measurement instrument to gauge the extent to which municipalities succeed in promoting social cohesion.
Artan Nimani, Valbona Zeqiraj, and Denis Spahija aim to determine whether and to what extent companies in Kosovo practice the concept of corporate social responsibility in their operations and what are their benefits from the application of this concept.
Besard Belegu and Artan Fejzullahu investigate the institute of dissolution of the assembly in developing countries and emerging democracies.
Rusdarti and Inaya Sari Melati aim to formulate an innovative business incubator model by optimizing the school cooperative's role to enhance the entrepreneurial spirit of vocational high school students.
Mohammad Al-Dwiry, Ghaith N. Al-Eitan, and Weaam Amira explore the impact of microeconomic and macroeconomic factors on the market price per share using panel data from 13 listed Jordanian commercial banks during the period 2010–2021.
Christos Konstantinidis, Maria Tsiouni, Sofia Kourtesi, and Ioannis Katrakylidis evaluate competitiveness and financial relations in the Greek bottled water manufacturing firms and study several economic parameters to determine competitiveness.
Murray Bryant and Throstur Olaf Sigurjonsson present Iceland's financial crisis in 2008 and demonstrate via a case study that agentic behaviour was facilitated by a set of institutions, actors, Icelanders, and underlying context.
Yahya Ali Al-Matari discusses how audit committee attributes affect firm performance in the finance sector and tries to find an answer if the audit committee chairperson's experience has a moderating effect on the relationship between audit committee attributes and the financial firm's performance.
Finally, Pahmi Amri, Achmad Nurmandi, and Dyah Mutiarin aim to identify the direction policy actors' play in policy-making by the desired orientation using qualitative analysis.
We are grateful to all the scholars who have contributed to this issue and hope that readers will enjoy reading papers of this issue and exploring the results of these studies!