New issue of the Journal of Governance and Regulation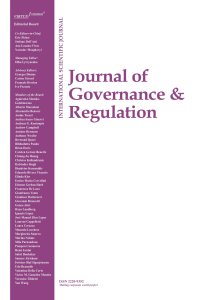 The editorial team of Virtus Interpress is glad to release the first issue of the Journal of Governance and Regulation in 2023 (volume 12, issue 1). The authors of the papers in this issue come from a variety of backgrounds and disciplines and bring diverse perspectives and approaches to the study of governance and regulation.
This issue is comprised of 17 high-quality papers that explore a range of topics related to governance and regulation, including auditor performance, external auditors, auditing quality, investors' decisions, foreign direct investment, investor characteristics, stock price, exchange rates, leverage effects, liquidity, firm value, board of directors, corporate finance, effective tax rate, tax law, debt-to-equity ratio, capital intensity ratio, profitability, financial lease, financial statements, fraud triangle, material misstatements, social responsibility accounting, financial performance, public shareholding firms, accountability, total quality management, operational performance, innovative processes, e-governance, organizational commitment, corruption, workload, labor relations, protection of employees, COVID-19, etc.
The full issue of the journal is available at the following link .
Gatot Soepriyanto, Meiryani, Aretha Amelia, and Jajat Sudrajat investigate the effect of workload and burnout on auditor performance during the COVID-19 pandemic of external auditors in Jakarta.
Nawaf Thuneibat and Rula Hani AlHalaseh document the impact of audit quality as measured by audit firm size, tenure, fees, and firm experience on the stock prices and the liquidity of stock companies listed on the Amman Stock Exchange.
Isuf Ahmeti and Mentor Lecaj aim to analyze the Ottoman taxation system, using a chronological approach and contemporary scientific-methodological techniques as well as analytical and interpretation methods.
Arusaya Thamaree and Simon Zaby aim to provide a bibliometric review of the corporate governance and firm value knowledge base. This paper is guided by PRISMA and based on the Scopus index for determining and extracting data.
Andreas Chang, Meiryani, Ujang Sumarwan, Theresia Gunawan, Sonnya Rahma Devi, Samukri, and Gazali Salim examine the influence of debt level, capital intensity ratio, and company profitability on tax rates.
Tariq Kameel, Nour Al-Hajaya, and Mutasim Ahmad Alqudah evaluate the bargain purchase option, which gives the lessee the option to buy the leased asset at the end of the lease period at a price significantly less than its fair market value.
Ziad Kh. Al-Enizi and Waleed Fouad Mahameed, using the analytical method and the survey of judiciary literature and relevant legal documents, perform an interesting analysis of the level of labor protection as per the international labor contract.
Thanh Nga Doan and Thu Trang Ta aim to identify the three components of the fraud triangle theory that affect the likelihood of material misstatements in financial statements.
Yousef Shahwan, Mohyedin Hamza, Husam Khalel Lubad, and Ola Muhammad Khresat study the impact of applying social responsibility accounting on the financial performance of public shareholding companies listed on the Amman Stock Exchange during the COVID-19 pandemic.
Sawitree Boonnarakorn, Samart Deebhijarn, and Woranat Sangmanee deal with the question of which factors affected the export performance of Thai One Tambon One Product (OTOP) entrepreneur snack food products.
Saood Mohammad Hassan Albahar and Rabiul Islam aim to determine the moderating role of economic factors of foreign investor over the relationship between economic factors and environmental degradation in the UAE.
Rani Eka Diansari, Jaizah Binti Othman, and Adiza Alhassan Musah explore organizational commitment and competency in Indonesia as a moderator of prosocial behavior toward village fund management accountability.
Ibnu Sina Chandranegara and Syaiful Bakhri aim to discover the factors that hinder the functioning of campaign finance regulations that can encourage enforcement transparency and accountability.
K. C. Baiju sheds light on the nexus of multidimensional poverty and educational deprivation among households belonging to different social groups.
Laizah Sashah Mutasa and Tiko Iyamu report on a case study where the Namibian environment is used, to gain a deeper understanding of the factors that influence e-governance and how those factors manifest themselves.
Ilir Bytyçi, Arberesha Qerimi, and Fidan Qerimi aim to measure the impact of total quality management through the components: organizational leadership, customer relationship, human resource management, strategic planning development, and supplier management.
David Umoru, Solomon Edem Effiong, Malachy Ashywel Ugbaka, Sadiq Oshoke Akhor, Danjuma Iyaji, Francis Ejime Ofie, Chineleobi Chris Ihuoma, Emmanuel Steelman Okla, Muhammed Adamu Obomeghie estimate fluctuations in daily exchange rate returns of ten African countries using GARCH models.
We hope that you will enjoy reading this issue of our journal!