New issue of the Journal of Governance and Regulation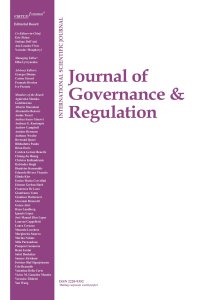 The editorial team of Virtus Interpress is delighted to publish a new issue of the Journal of Governance and Regulation (volume 12, issue 2). The papers published in this issue have contributed to the ongoing discussion of governance and regulation, and have provided valuable insight into current developments and future prospects in this area.
The new issue of the journal investigates such issues as corporate governance and regulation, innovation, organizational performance, financial and non-financial performance, accounting, fintech, financial sector, investment, insurance, capital, risks, board of directors, board diversity, gender quota, board functioning, board structure, voluntary disclosure, ESG, cash holdings, liquidity, sustainability, financial constraint, Sustainable Development Goals, artificial intelligence, SMEs, cryptocurrency, digital asset, public debt, economic growth, exchange rate devaluation, social capital, socioeconomic determinants, public services, regulatory measures, policy-making processes, leadership, employee retention, etc.
The full issue of the journal is available at the following link .
Rewan Kumar Dahal, Binod Ghimire, Bharat Rai, and Bhupendra Jung Shahi aim to quantify the non-financial performance metrics in the telecommunication business performance from the customers' perspective.
Arjeta Hallunovi overviews the impacts of the implementation of accounting practices in some manufacturing companies in Albania
Mouaad Chafai explores the reasons behind the dynamics of informal freight transport in Morocco under the paradox of the total absence of contracts and the increasing regulatory constraints of the sector.
Umi Enggarsasi and Nur Khalimatus Sa'diyah investigate the effect of the pandemic, especially social restrictions on the increase in crime, and formulate policies that are interrelated between socioeconomic pressures during a pandemic and crime.
Ebrahim Mohammed Al-Matari, Mahfoudh Hussein Mgammal, Nabil Ahmed Mareai Senan, Hasnah Kamardin, and Talal Fawzi Alruwaili aim to assess the influence of fintech on Saudi Arabia's financial corporate performance.
Subaidi, Aan Komariah, Ahmad Tantowi, Munasir, Irawati Sabban, Nani Hartini, Suryadi, Abd. Qadir Muslim, Dedy Achmad Kurniady, Firman Suryadi Rahman, Syifa Hanifa Salsabil, and Barowi evaluate the support of visionary leadership and the quality of education on the competitiveness of schools.
Ignacio López Domínguez provides an overview of the evolving investment strategies of insurers and identifies the opportunities and constraints they may face with respect to long-term investment activity.
Ridwan Ridwan, using a descriptive-analytical approach discusses the existence and urgency of administrative efforts in administrative justice and regulation.
Audur Arna Arnardottir, Throstur Olaf Sigurjonsson, and Patricia Gabaldon deal with a question of how increased gender diversity on corporate boards in Iceland, driven by applying a "hard" public policy, i.e., board gender quota legislation, has affected post-quota board directors' perceptions of board functioning.
Aws AlHares, Noora AlEmadi, Tarek Abu-Asi, and Ruba Al Abed analyse how cash holdings are affected by the environmental, social, and governance (ESG) disclosure practices of corporations.
Silas Mukwarami and Huibrecht M. van der Poll examine the linkage between social factors and water services delivery in the biggest municipalities in South Africa for improved service delivery.
Wiwat Thanapaet, Watcharin Sutthisai, Sitthiporn Soonthorn, Ratchanida Saiyaros, and Sathitkoon Boonruan aim to identify the factors that influence public services of the Thai provincial government agency public services (PGAPS), applying a stratified random sample.
Ngadhnjim Brovina and Dritero Arifi conduct a study on the role and importance of institutional and non-institutional actors in Kosovo's foreign policy processes.
Thi Tuoi Do, Van Hieu Pham, and Hung Phuong Vu perform an analysis of the effect of bonuses for the Lunar New Year holiday on employee retention in firms in Vietnam.
Hidaya Al Lawati and Badar Alshabibi aim to find an answer to which extent corporate board characteristics influence the disclosure of Sustainable Development Goals (SDGs) in Omani-listed financial institutions.
Arbiana Govori and Qemajl Sejdija perform review-based research to examine past literature to determine the key challenges facing SMEs in artificial intelligence integration.
Pariwut Prachayanant, Tanpat Kraiwanit, and Veraphong Chutipat intend to explore the elements that encourage people to participate in cryptocurrency gamification by analysing perceived enjoyment, perceived profitability, and demographic variables.
Gazmore Rexhepi and Valbona Zeqiraj describe the impact of public debt on economic growth and the possible existence of a non-linear relationship in eleven European Union (EU) new member states for the period 2000–2019.
Finally, David Umoru, Solomon Edem Effiong, Shehu Salisu Umar, Clement Chibuzoe Eleh, Orobosa Abraham Ihensekhien, Friday Osaru Ovenseri-Ogbomo, Chineleobi Chris Ihuoma, and Ann Nuhu Tizhe estimate the covariance of currency devaluation and volatilities in global oil prices caused by the COVID-19 outbreak on West African Monetary Zone economies
We hope that you find this issue of the journal useful and that it is both informative and educational!