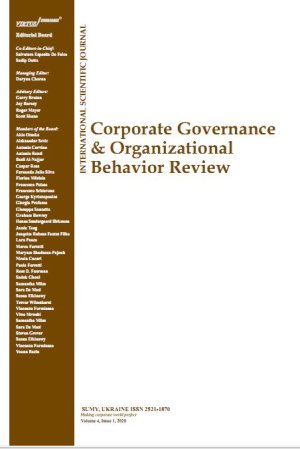 Organization barriers and social justice analysis of professional women in the workplace
Download This Article
Akinola George Dosunmu
, Mpho Dichaba

This work is licensed under a Creative Commons Attribution 4.0 International License.
Abstract
The gender gap still poses a setback for women to advance their careers (United Nations Educational, Scientific and Cultural Organization [UNESCO], 2015). Gender equality for working women and the issue of organization governance have continuously been debated as a social reality in the workplace. However, the discourse of equality and equity in the study of women and organizations often focuses on fairness in the sub-Saharan regions. The inability to adequately theorise women's opportunities within the organization setting and from social justice perspective is problematic. Thus, discrimination based on gender in the workplace is deeply organizational and social if studied from the perspective of fairness and justice. Therefore, this paper problematizes the importance of gender equality from an organizational governance perspective and argues that the lack of mentoring and discrimination based on gender affects women working in a corporate organization in South Africa.
Keywords: Women, Social Justice, Work, Gender, Workplace, Governance
Authors' individual contribution: Conceptualization — A.G.D. and M.D.; Methodology — A.G.D. and M.D.; Validation — A.G.D. and M.D.; Formal Analysis — A.G.D. and M.D.; Resources — A.G.D. and M.D.; Data Curation — A.G.D. and M.D.; Writing — Original Draft — A.G.D. and M.D.; Writing — Review & Editing — A.G.D. and M.D.; Supervision — A.G.D. and M.D.; Project Administration — A.G.D. and M.D.
Declaration of conflicting interests: The Authors declare that there is no conflict of interest.
JEL Classification: J700, 710, 780
Received: 28.06.2022
Accepted: 13.03.2023
Published online: 15.03.2023
How to cite this paper: Dosunmu, A. G., & Dichaba, M. (2023). Organization barriers and social justice analysis of professional women in the workplace. Corporate Governance and Organizational Behavior Review, 7(2), 15–25. https://doi.org/10.22495/cgobrv7i2p2