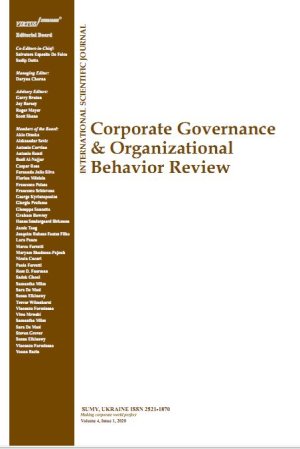 THE EFFECTS OF LEGAL CERTIFICATION OF ACCOUNTS ON COMPANY PERFORMANCE: THE PORTUGUESE CASE
Download This Article
José Manuel Bernardo Vaz Ferreira
DOI:10.22495/cgobr_v3_i1_p1

This work is licensed under a Creative Commons Attribution 4.0 International License.
Abstract
Portuguese legislation provides that limited liability companies be required to certify their accounts if for two consecutive years they meet the requirements of article 262 of the companies' code.
The research question and the purpose of this study are to know the main changes in the economic and financial performance of a sample of limited liability companies after having their accounts certified by a statutory auditor.
Besides descriptive statistics, the analysis was conducted using Shapiro-Wilcoxon's non-parametric tests for paired samples to determine the truth of the hypotheses.
In general, most of the indicators showed a positive evolution over the period in which the companies started to have certified accounts. The analysis of the results suggests that the mandatory appointment of a statutory auditor, in general, led to a positive evolution in the economic and financial indicators, despite little statistical significance.
Keywords: Legal Certification of Accounts, Statutory Auditor, Financial Auditing, Corporate Governance, Firm Performance
JEL Classification: G30, M21, M40, M42
Received: 05.11.2018
Accepted: 24.01.2019
Published online: 28.01.2019
How to cite this paper: Vaz Ferreira, J. (2019). The effects of legal certification of accounts on company performance: The Portuguese case. Corporate Governance and Organizational Behavior Review, 3(1), 8-18. http://doi.org/10.22495/cgobr_v3_i1_p1