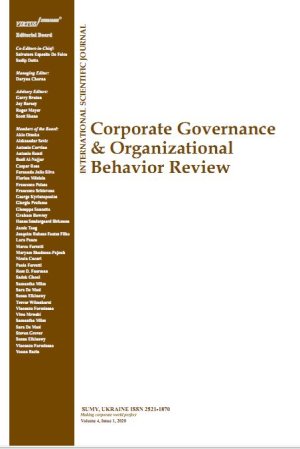 THE IMPACT OF LEADERSHIP STYLE ON EMPLOYMENT IN THE INDUSTRIAL SECTOR OF THE EMERGING ECONOMY
Abstract
The leadership styles such as transformational leadership and transactional leadership have captured the interest of scholars in the contemporary world of organisational behaviour since it is associated with the perceptions of supervision skills to the presence of retentions within the organisational setting. The primary objective of this study is to examine the impact of leadership style on employee retention in the South African automotive industry. A quantitative research design was employed. Non-probability sampling was used and 96 usable questionnaires were returned. The empirical results reveal that transactional and transformation leadership have positive influence on employee retention.
Evidence shows that a leadership style is a powerful instrument that can be used to retain talent within the organisational settings. The main aim of this study was to determine the impact of leadership style on employee retention in the context of automobile sector. By using descriptive and inferential statistics, the study shows that there is a negative relationship between leadership style and employee retention. In particular, the study argues that transactional leadership style and transformational leadership style are forces that are needed in order to retain talents in the organisation settings. Furthermore, based on the findings, the study, therefore, recommends the implementation of both transformational leadership style and transactional leadership style in mitigating employee turnover in the automotive organisations in South Africa.
Keywords: Employee Retention, Leadership, Quantitative Research, Automotive Sector, Transactional Leadership, Transformational Leadership
JEL Classification: M41, K12
Received: 04.12.2018
Accepted: 19.03.2019
Published online: 04.04.2019
How to cite this paper: Mrwebi, V. (2019). The impact of leadership style on employment in the context of an emerging economy. Corporate Governance and Organizational Behavior Review, 3(1), 19-31. http://doi.org/10.22495/cgobr_v3_i1_p2

The payment can be made with credit/debit card via secure payment system provided by Ukrainian processing center. During the payment, you will probably receive an SMS from your bank with the password to confirm the transaction. The price in Euro is an oriented one. The payment will be charged in UAH according to the exchange rate of your payment card provider. Once the payment is made we will process it ASAP and our representative will contact you to deliver the service/confirm the payment.