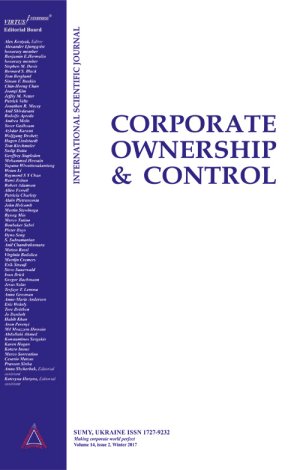 The influence of family board involvement on earnings management
Download This Article
Fabio Franzoi
, Mark Mietzner
, Franziska Thelemann

This work is licensed under a Creative Commons Attribution 4.0 International License.
Abstract
This study explores the influence of family ownership and family board involvement on earnings management in German-listed firms. We extend existing research by applying a more precise measurement of family involvement that offers new insights into a family's effect on earnings management behaviour. Our models suggest that the degree of management involvement of families is a significant driver of earnings management, a factor disregarded so far in the literature. Furthermore, the distinction between founding family and family ownership should be carefully considered. Employing a sample of 278 firms from 2000-2013, we find that greater family management presence on the executive board is associated with more earnings-decreasing accrual-based earnings management practices and more real earnings management activities via discretionary expenses. This is viewed as less value-destroying REM activity to meet earning targets. Overall, German family firms seem to use their powerful positions as shareholders and executive board members to expropriate shareholders and manage earnings to meet targets while maintaining family wealth.
Keywords: Earnings Management, Accounting, Family Firms, Family Ownership, Family Management, Corporate Governance
Authors' individual contribution: Conceptualization – F.F., F.T., and M.M.; Methodology – F.F. and F.T.; Investigation – F.F. and F.T.; Data Curation – F.F. and M.M.; Formal Analysis – F.F. and F.T.; Writing – F.F., F.T., and M.M.; Supervision – M.M.
Declaration of conflicting interests: The Authors declare that there is no conflict of interest.
Acknowledgements: We are grateful to the participants at the 56th Academy of Economics and Finance Conference for many helpful suggestions.
JEL Classification: G14, G32, G34, M40, M41
Received: 23.11.2020
Accepted: 12.01.2021
Published online: 14.01.2021
How to cite this paper: Franzoi, F., Mietzner, M., & Thelemann, F. (2021). The influence of family board involvement on earnings management. Corporate Ownership & Control, 18(2), 106-123. https://doi.org/10.22495/cocv18i2art8