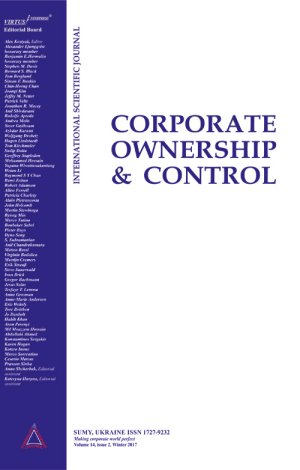 The relationship between corporate governance and stock prices in the GCC financial markets
Download This Article

This work is licensed under a Creative Commons Attribution 4.0 International License.
Abstract
The study investigates the impact of corporate governance characteristics on stock prices in the Gulf Cooperation Council (GCC) financial markets. It covers the financial markets of four (GCC) countries with a sample of 237 firms for the period of 2013-2017. The study was based on the GCC financial markets' database, financial statements and ancillary notes which include corporate governance, stock prices by Bloomberg and share location. A multi-regression model was used. The independent variables were four corporate governance characteristics and the dependent variable was the stock price, in addition to using a number of control variables. A positive relationship was found between corporate governance and return on stock. The Gulf companies that have increased levels of corporate governance have increased returns to their shares, indicating that these companies are working to reduce the agency's cost and eliminate the conflict between shareholders and directors. Few studies have focused on the relationship of corporate governance characteristics on stock prices in the GCC financial markets. The existing study contributes to the financial management literature by providing further evidence on such a relationship, especially in emerging countries. It serves as a guide to investors looking for the best investments in reliable companies in the region.
Keywords: Corporate Governance, Stock Prices, GCC, Financial Markets
Authors' individual contribution: The author is responsible for all the contributions to the paper according to CRediT (Contributor Roles Taxonomy) standards.
Acknowledgements: The author would like to thank Ahlia University for all the support given to the research activity. I would like also to thank the editorial team for guidance and anonymous reviewers for their comments and suggestions. Finally, I would like to thank Professor Allam Hamdan of Ahlia University for the support given in statistics and data production.
JEL Classification: G30, G32
Received: 02.11.2019
Accepted: 14.01.2020
Published online: 17.01.2020
How to cite this paper: Al Mubarak, M. M. S. (2020). The relationship between corporate governance and stock prices in the GCC financial markets. Corporate Ownership & Control, 17(2), 57-64. http://doi.org/10.22495/cocv17i2art5