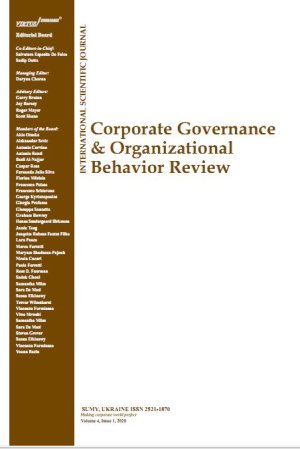 Corporate social responsibilities and the well-being of rural dwellers: The Lafarge Cement Company's example
Download This Article
Asari Effiong Anam
, Fredrick Awhen Opoh, Unimke Sylvester Akongi
, Emmanuel Eshiotse
, Ude Bassey Obeten
, Ruth Bassey Okon
, Nnana Okoi Ofem
, Bassey Ballantyne Ikpeme
, Nwosu Uchechukwu Wilson
, John Thompson Okpa

This work is licensed under a Creative Commons Attribution 4.0 International License.
Abstract
Using the Lafarge Cement Company's example, the study examined the impact of corporate social responsibility (CSR) on the well-being of rural dwellers in Nigeria. The design adopted is cross-sectional, where quantitative and qualitative methods were applied in obtaining data from one thousand one hundred and four (1104) respondents from selected communities in the Southern Senatorial District of Cross River State, Nigeria. The research used a multi-stage sampling technique. Data were then analysed using descriptive statistics such as percentages and frequency tables. At the same time, the qualitative data were analysed using content analysis techniques. However, the findings revealed that 62.1% of the respondents reported that they are aware of the existing projects executed by Lafarge Cement Company. While 36.4% of the respondents reported construction and rehabilitation of roads as the projects with the highest attention. The findings of the study further showed that 36.4% of the respondents identified improved income and wealth as the most impacted aspect of their well-being. Beyond investing in infrastructure, the study recommended that more resources be invested in young people's human capital development in rural areas. This will help in achieving sustainable development in rural areas.
Keywords: Corporate Social Responsibility, Conflict, Education, Infrastructural Development, Socio-Economic, Skill Training, Working Conditions, Problem, Well-Being, Rural Dwellers
Authors' individual contribution: Conceptualization — A.E.A., J.T.O., and E.E.; Methodology — E.E., R.B.O., and U.S.A.; Formal Analysis — A.E.A., J.T.O., U.S.A., and E.E.; Investigation — E.E., R.B.O., and U.S.A.; Funding Acquisition — N.U.W., U.S.A., F.A.O., N.O.O., O.U.B., B.B.I., and R.B.O.
Declaration of conflicting interests: The Authors declare that there is no conflict of interest.
Acknowledgements: The support and encouragement of Prof. S. O. Ering, Associate Prof. A. O. Agba, and other lecturers at the Department of Sociology, University of Calabar are highly appreciated.
JEL Classification: M13, R18, Q17
Received: 20.03.2022
Accepted: 10.08.2022
Published online: 12.08.2022
How to cite this paper: Anam, A. E., Wilson, N. U., Ikpeme, B. B., Ofem, N. O., Okon, R. B., Obeten, U. B., ... Okpa, J. T. (2022). Corporate social responsibilities and the well-being of rural dwellers: The Lafarge Cement Company's example. Corporate Governance and Organizational Behavior Review, 6(3), 128–137. https://doi.org/10.22495/cgobrv6i3p12