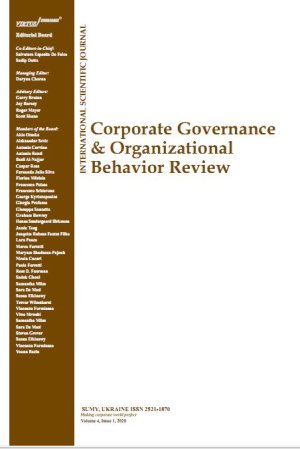 Electoral violence and voter apathy: Peace journalism and good governance in perspective
Download This Article
Wilfred Oritsesan Olley
, Ewomazino Daniel Akpor
, Dike Harcourt-Whyte
, Samson Ighiegba Omosotomhe
, Afam Patrick Anikwe
, Edike Kparoboh Frederick
, Evwiekpamare Fidelis Olori
, Paul Edeghoghon Umolu

This work is licensed under a Creative Commons Attribution 4.0 International License.
Abstract
Throughout election seasons, threats, verbal bullying, hate speech, misinformation, physical attack, and imposed "protection" are all utilised to limit, postpone, or otherwise impact the electoral process, according to Fischer (2002). By examining the role of the media in the portrayal of electoral violence, this research highlighted the struggle for power and state resources in electoral contests. The paper looks at peace journalism as a key component of election coverage for defusing tensions and fostering good governance. Two hypotheses were tested, and no link was found between media reporting on electoral violence, media portrayals of electoral violence, and voters' perception of good governance. The result demonstrates that the Nigerian media is fair in its coverage of electoral issues, including violence before, during, and after elections, in a balanced and responsible manner. It is all geared towards promoting good governance. The study indicates that journalists are primarily responsible for what readers learn about elections and electoral violence, and audience perception will be shaped by how journalists represent political players and their activities.
Keywords: Conflict, Electoral Violence, Nigeria, Peace Journalism, Governance, Violence
Authors' individual contribution: Conceptualisation — W.O.; Methodology — E.D.A.; Investigation — D.H.-W.; Resources — W.O., E.D.A., D.H.-W., S.I.O., A.P.A., E.K.F., E.F.O., and P.E.U.; Writing — S.I.O. and A.P.A.; Supervision — W.O.
Declaration of conflicting interests: The Authors declare that there is no conflict of interest.
JEL Classification: N40, N47, H10
Received: 15.03.2022
Accepted: 05.08.2022
Published online: 09.08.2022
How to cite this paper: Olley, W. O., Akpor, E. D., Harcourt-Whyte, D., Omosotomhe, S. I., Anikwe, A. P., Frederick, E. K., Olori, E. F., & Umolu, P. E. (2022). Electoral violence and voter apathy: Peace journalism and good governance in perspective. Corporate Governance and Organizational Behavior Review, 6(3), 112–119. https://doi.org/10.22495/cgobrv6i3p10