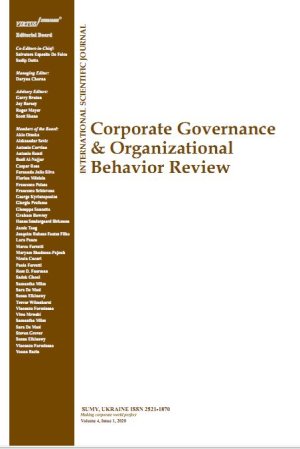 Impact of board gender diversity on the financial performance of the manufacturing and service companies listed on the Amman Stock Exchange
Download This Article
Sinan Abbadi
, Murad Abuaddous, Ahmad Alwashah

This work is licensed under a Creative Commons Attribution 4.0 International License.
Abstract
This study seeks to explore the significance of board gender diversity and its impact on the financial performance of the manufacturing and service companies listed on the Amman Stock Exchange (ASE) between 2013–2018. Prior studies have determined several benefits of female presence in the boardroom. However, gender diversity's impact on financial performance is still unclear due to the mixed findings regarding this relation. In addition, studies about gender diversity roles in Jordanian companies' performance are missing in the literature. Hence, in order to fill this gap, data from the listed companies was extracted from the ASE website with a total sample of 1088 companies as follows: 294 manufacturing companies (27%) and 794 service companies (73%). The results showed more males (96.2%) than females (3.8%) on the board of directors among the listed manufacturing and service companies. The manufacturing and service companies reported a mean Tobin's Q value of 1.044 (SD = 2.164) and 1.304 (SD = 3.554), respectively. Results show that the linear regression shows that board gender diversity has a statistically significant impact on Tobin's Q (p = 0.043) and ROA (p = 0.062). Therefore, there is a need for both the manufacturing and service companies to consider increasing the number of female members on the board for better financial performance.
Keywords: Board of Directors, Gender Diversity, Firm Performance
Authors' individual contribution: Conceptualization — S.A. and M.A.; Methodology — S.A. and M.A.; Software — S.A.; Validation — S.A.; Formal Analysis — S.A.; Investigation — A.A. and M.A.; Resources — A.A.; Data Curation — S.A.; Writing — Original Draft — M.A.; Writing — Review & Editing — M.A.; Visualization — M.A.; Supervision — S.A.; Project Administration — S.A.
Declaration of conflicting interests: The Authors declare that there is no conflict of interest.
JEL Classification: J16, M41, G34
Received: 04.06.2021
Accepted: 03.09.2021
Published online: 06.09.2021
How to cite this paper: Abbadi, S., Abuaddous, M., & Alwashah, A. (2021). Impact of board gender diversity on the financial performance of the manufacturing and service companies listed on the Amman Stock Exchange. Corporate Governance and Organizational Behavior Review, 5(2), 8–16. https://doi.org/10.22495/cgobrv5i2p1