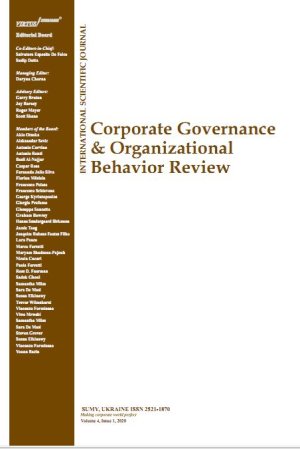 Impact of corporate governance on financial performance: The case of listed warehouse transportation firms in emerging economy
Download This Article
Duc Tai Do
, Thi Thuy Hang Pham, Binh Minh Tran, Manh Dung Tran

This work is licensed under a Creative Commons Attribution 4.0 International License.
Abstract
Corporate governance structures are expected to help a firm have better financial performance through giving proper decision-making (Shivani, Jain, & Yadav, 2017). In recent years, along with the completing process of the business environment, the corporate governance framework in Vietnam has also been gradually built and implemented. However, corporate governance in Vietnam still has some limitations. This study is conducted to investigate the impact level of corporate governance on the financial performance of warehouse transportation firms listed on the Hanoi Stock Exchange (HNX) of Vietnam. We employ both qualitative and quantitative methods for processing data collected from twenty-two listed firms. The results reveal that determinant of corporate governance including the nationality of the board (NB), board composition (BC) has a negative relationship with financial performance; the remaining determinants, such as board size (BS), professional qualifications of the board (BE), the proportion of women (PW), the average age of the board (AA), general director concurrently of the board chairman (PO), do not influence financial performance. However, this impact level changes when we put some controlled variables in the model. In addition, the controlled variable of enterprise continuous uptime (COT) also has a negative impact on financial performance. Based on the findings, some recommendations are proposed relating to corporate governance for enhancing the financial performance of listed warehouse transportation firms in Vietnam.
Keywords: Corporate Governance, Financial Performance, Warehouse Transportation Firms, Finance
Authors' individual contribution: Conceptualization — D.T.D.; Methodology — T.T.H.P.; Resources — B.M.T.; Writing — Review & Editing — M.D.T.; Visualization — D.T.D.; Funding Acquisition — M.D.T.
Declaration of conflicting interests: The Authors declare that there is no conflict of interest.
JEL Classification: G30, M41, L25
Received: 17.06.2021
Accepted: 10.09.2021
Published online: 13.09.2021
How to cite this paper: Do, D. T., Pham, T. T. H., Tran, B. M., & Tran, M. D. (2021). Impact of corporate governance on financial performance: The case of listed warehouse transportation firms in emerging economy. Corporate Governance and Organizational Behavior Review, 5(2), 32–43. https://doi.org/10.22495/cgobrv5i2p3