New issue of the Journal of Governance and Regulation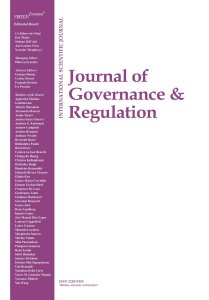 The editorial team of Virtus Interpress is happy to announce that issue 3 (special issue) of the Journal of Governance and Regulation has been released. The papers in this issue offer a wide range of viewpoints and methodologies for the investigation of governance and regulation. They include reviews of prior literature as well as actual research, case studies, and theoretical assessments.
This issue has 19 papers that examine a variety of governance and regulation-related subjects, including corporate governance, regulatory compliance, public policy, fintech, the impact of COVID-19 on corporate governance, auditing, accounting, organizational culture, shared leadership, digital transformation, firm performance, firm value, ownership structure, agency theory, board attributes, credit risks, liquidity risks, financial risks, fraudulent financial reporting, disclosure, crisis management, corporate social responsibility, blockchain technology, technostress, token economy, cryptocurrency, digital assets, resources-for-infrastructure, financing techniques, innovation management, innovation marketing, international trade, economic growth, environmental risks and governance, productivity, employee performance, labor market, unemployment, etc.
The full issue of the journal is available at the following link .
Askar Taliang, Syamsu Rijal, Risma Niswaty, Herman, and Sitti Hardiyanti Arhas aim to examine the effect of management work tools on work productivity, either directly or through productivity and accountability.
Ermira H. Kalaj and Kelt Kalaj investigate the effect of various macroeconomic factors on healthcare spending using time series data for Albania for the period from 2000 to 2020.
Duc Ho Dai and Khuong Huynh Tan study the impact of organizational culture and shared leadership on digital transformation and its subsequent effect on firm performance.
Hendra Achmadi and Rudy Pramono aim to determine whether online learning influences e-service quality at the university administration during the pandemic and its impact on intention to enroll.
Mohammad Abdullah Altawalbeh estimates the impact of the board's structure and ownership structure on the financial risks of Jordanian commercial banks.
Hoan Nguyen, Dinh Huong Hoang, Duc Tai Do, The Nu Tran, Truong Thanh Dao, and Hung Phuong Vu explore the relationship between service quality and the loyalty of customers in Vietnamese domestic independent auditing firms.
Petros Kalantonis, Sotiria Schoina, and Christos Kallandranis address the relationship between board quality and firm performance using a sample of listed firms on the Athens Stock Exchange from 2008 to 2016.
Erna Setiany, Wiwik Utami, and Annisa Hakim Zamzami perform an interesting analysis of the impact of competitive positions and corporate governance on firm values.
Elyta, Mohammad Zaki Ahmad, Jamaliah, Dadang Ilham Kurniawan Mujiono, Rabiul Islam, and Restuardy Daud assess the impact of COVID-19 on the export commodity sector in a chosen province in Indonesia.
Mohannad Obeid Al Shbail, Tareq O. Bani-Khalid, Husam Ananzeh, Huthaifa Al-Hazaima, and Awn Al Shbail aim to measure how technostress affects auditors' plans to adopt blockchain technology.
Muhamet Binaku and Sedat Ismajli aim to research the impact of COVID-19 on the labor markets in the Western Balkans to close a gap in the literature.
Novianita Rulandari, Andri Putra Kesmawan, Isra Muksin, Edy Sutrisno, and Mukholik Maswi deal with the function of the Regional House of Representatives (DPRD) in the formulation of regional regulation policies.
Maria Oluyeju and Olufemi Oluyeju approach to inform policymakers on the aspects of resources-for-infrastructure (R4I) deals that need reform.
Halil Bajrami, Bashkim Bellaqa, and Milaim Mehmeti aim to identify funding for tourism development in Kosovo through grants, legal infrastructure, and tourism staff training.
Ahmad Kaab Omeir, Deimante Vasiliauskaite, and Elham Soleimanizadeh compare the precision of these two models for the prediction of fraud in the financial statements of Iranian companies.
Adalberto Rangone analyzes a performing model of process management in a state of emergency in the airport sector.
Nadia Abdelhamid Abdelmegeed Abdelwahed and Bahadur Ali Soomro evaluate Saudi Arabian university students' insights into environmental risk perceptions and built environmental behaviors.
Ruangchan Thetlek, Tanpat Kraiwanit, Kris Jangjarat, Pongsakorn Limna, and Yarnaphat Shaengchart aim to demonstrate the factors influencing the token economy in Thailand.
James Ajor Ogar, John Thompson Okpa, Thelma Aya Abang, Fredrick Awhen Opoh, Francis Abul Uyang, Bassey Ballantyne Ikpeme, Rosemary Ine Eneji, Augustine Eze Bassey, Patrick Owan Bisong, Chukwudi Charles Ezikeudu, and Edem Ebong present empirical evidence on how malware victimization impacts organizational survival in the study area.
In conclusion, all of the papers that make up this issue of the journal are highly commended for their contemporary and effective approaches to pertinent corporate and regulatory concerns around the world and for their contributions to enhancing the relevant literature of reference in terms of modernity and innovation.