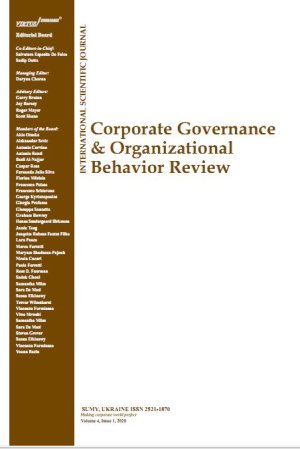 The role of board composition in CSR disclosure: An empirical analysis in four European countries
Download This Article
Carmela Di Guida
, Alfredo Celentano
, Francesco Mirone
, Gabriella D'Amore

This work is licensed under a Creative Commons Attribution 4.0 International License.
Abstract
The purpose of this study is to provide evidence of the influence of corporate governance mechanisms on corporate social responsibility (CSR) disclosure released by 483 European listed companies after the EU Directive (2014/95) entered into force. The sample includes 483 listed companies, all from the top four European countries by GDP value — Germany, France, Italy, and Spain — that issued CSR reports in the period 2017–2020. The study uses an ordinary least squares regression model to test six hypotheses on the relationship between board characteristics and CSR disclosure. The results of the study confirm that gender diversity, board independence, and CSR committee are positively related to CSR disclosure, while no significant relationship was found with CSR disclosure board meeting, the board size, and CEO duality. This article contributes to academic literature (Pucheta-Martínez & Gallego-Álvarez, 2019; Fuente, García-Sanchez, & Lozano, 2017) by showing the functioning of six board characteristics in influencing CSR disclosure released by European listed companies after EU Directive (2014/95) entered into force. It also provides interesting insights for governments and other regulatory bodies when formulating future guidelines and policies in this regard.
Keywords: Board Attributes, CSR Disclosure, Engagement, EU Directive (2014/95), Western Europe
Authors' individual contribution: Conceptualization — C.D.G. and A.C.; Investigation — C.D.G.; Methodology — C.D.G. and A.C.; Data Curation — C.D.G. and A.C.; Writing — Original Draft — C.D.G. and A.C.; Visualization — C.D.G. and G.D.A.; Software — A.C.; Formal Analysis — A.C.; Validation — F.M.; Writing — Review & Editing — F.M. and G.D.A.; Supervision — G.D.A.
Declaration of conflicting interests: The Authors declare that there is no conflict of interest.
JEL Classification: M140, M400, M480
Received: 07.05.2022
Accepted: 29.07.2022
Published online: 01.08.2022
How to cite this paper: Di Guida, C., Celentano, A., Mirone, F., & D'Amore, G. (2022). The role of board composition in CSR disclosure: An empirical analysis in four European countries. Corporate Governance and Organizational Behavior Review, 6(3), 74–86. https://doi.org/10.22495/cgobrv6i3p7