New issue of the Corporate Governance and Organizational Behavior Review journal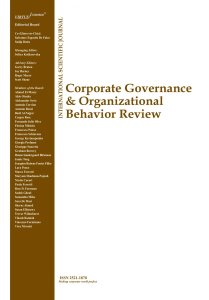 The editorial team of Virtus Interpress would like to publish a new issue of the journal Corporate Governance and Organizational Behavior Review.
This issue explores a variety of topics related to corporate governance and organizational behavior, such as the millennial generation, social justice, hi-tech companies, labor legislation, legislative experience, motivation and productivity of the company employees, scientific and technical revolution, compassion, communication, job satisfaction, work commitment, employee performance, mindfulness, employee involvement, psychological safety, cybersecurity governance, employee changes, investment decision, behavior finance, perceived corporate support, financial literacy, Islamic financial planning, strategic decision-making, non-financial performance, transfer pricing optimization, companies behaviour, tax consultant perspective, etc.
The full issue of the journal is available at the following link .
The purpose of the study by Eko Usriyono and Sugeng Wahyudi is to determine the factor of financial behavior that affects the millennial generation's individual investment decisions in Indonesia moderated by financial literacy.
The paper by Akinola George Dosunmu and Mpho Dichaba problematizes the importance of gender equality from an organizational governance perspective and argues that the lack of mentoring and discrimination based on gender affects women working in a corporate organization in South Africa.
Emmanuel Eshiotse, Nwosu Uchechukwu Wilson, Bukie Fidelis Bukie, Veronica Akwenabuaye Undelikwo, Pius Otu Abang, Godfrey Ekene Odinka, Francis Abul Uyang, Nnana Okoi Ofem, Bisong Daniel Bisong, Abanbeshie Jeremiah, and John Thompson Okpa explored factors affecting the government delivery of social welfare services in Nigeria.
The value of the paper by Mykola Inshyn, Olena Pavlichenko, Tetiana Egorova-Lutsenko, Oksana Epel, and Andrii Stratiuk is related to the possibility to increase the productivity and competitiveness of companies through employee satisfaction, as well as ensuring proper compliance with labor laws in the context of the legal link between the employer and the employee.
Ntsieni Fitzgerald Ramasimu investigates the extent to which rural secondary school principals engage stakeholders such as school governing bodies (SGBs), parents, community members, businesspeople, civic organizations, and teachers in novel ways to improve learners' performance and educational quality.
The purpose of research by Christian Wiradendi Wolor, Suherdi, Rizki Firdausi Rachma Dania, Ahmad Nurkhin, and Rofi Rofaida is to investigate how affection and communication between employees are elements that influence job satisfaction, employee commitment, and employee performance.
The study by David Umoru, Solomon Edem Effiong, Malachy Ashywel Ugbaka, Danjuma Iyaji, Enyinna Okpara, Chris Chineleobi Ihuoma, Olawale Hezekiah Tedunjaiye, Ehis Taiwo Omoluabi, and Oseni Hussein Omomoh, which covers 30 African nations discovered a two-way relationship between money demand and price level variation. Results show that as more of the units of the local currency is used to exchange a unit of foreign currency such as the dollar, local economic units are discouraged to increase demand for money in local money and thus hold fewer local currencies while investing in foreign exchange investments.
Drawing on self-determination theory (SDT) and conservation of resources (COR) theory, the research by Ting Ting Sun constructed a mindfulness employee involvement (M-EI) model to explore the mechanism of enhancing psychological safety by leveraging mindfulness and employee involvement practices.
Aiman Mahmoud Abu Hamour aims to identify the extent of the commitment of Jordanian commercial banks to the governance of cybersecurity, from the point of view of a certified public accountant
Wasib Bin Latif, Issa Ahammad, Emran Ahmed, Md. Mahedi Hasan, Mohammed Abdul Jalil, and Mir Mohammad Azad determine how the COVID-19 pandemic has influenced employee performance and determine the workers' perspectives regarding the changes that have been made to their everyday lives.
Fahmi Oemar, Endri Endri, and Moh. Taufan Nugroho investigates the potential of income zakat payments by examining three influencing factors: Islamic financial planning, perceptions of company support, and financial literacy.
Thi Tuoi Do and Van Hieu Pham uses the employment survey data of the General Statistics Office in 2021 and uses labor law to analyze the influence of the COVID-19 pandemic on reducing the income of workers in Vietnam.
Luna Mohammad Azmi Shaheen determined the impact of implementing the dimensions of the BSC on strategic decision-making in Jordanian universities.
Fatmir Mehmeti, Jyxhel Spahi, and Rıza Feridun Elgün aim to examine the levels of job satisfaction of teachers.
The research by Mohd Fairuz Adnan, Nurhazrina Mat Rahim, and Norli Ali identified factors that may affect one's digital financial literacy (DFL) that have not been previously explored in the financial literacy literature.
Thi Que Nguyen, Thi Thuy Hang Pham, Manh Dung Tran, Van Hieu Pham, and Thuy Linh Nguyen conduct a study to investigate the impact level of internal control on the performance of non-financial firms listed on the Vietnam Stock Exchange.
Hani Werdi Apriyanti, Suzana Sulaiman, and Adibah Jamaluddin, in their qualitative study, explore the tax consultant perspective on companies' transfer pricing optimization behaviour using planned behaviour theory.
We hope that reading this issue will be pleasant and informative for you!