New issue of the Journal of Governance and Regulation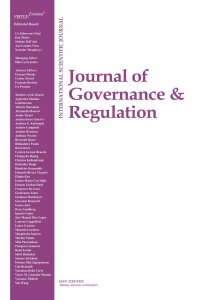 The editorial team of Virtus Interpress is happy to release the first issue of the Journal of Governance and Regulation in 2022 (volume 11, issue 1).
This issue presents papers devoted to a great variety of topics, in particular, corporate regulation, governance, board of directors, board age, board members' experience, managerial ownership, tax aggressiveness, profitability and efficiency, earnings management, discretionary accruals, executive compensation, surveillance and privacy, sustainable innovation, entrepreneurship, financial entrepreneurship performance, intangible assets, corporate governance rating, stakeholders, benchmarking, accounting information systems, firm performance, employee performance, auditing process, accounting performance, government size, economic growth, conspicuous consumption, income inequality, annual report award, abnormal stock return, abnormal trading volume, foreign exchange risk, career experience of women, privatization, socially owned enterprises, new enterprises, firm growth, start-ups, start-up financing, external finances, data mining, IT infrastructure, cyber law, interest rate, loan margin, project finances, etc.
The full issue of the journal is available at the following link .
Desak Made Dwitya Sari Pebriyanti, Amrie Firmansyah, Suparna Wijaya, and Ferry Irawan investigate the association between the CEO's foreign experience and the CEO's share ownership with tax aggressiveness, using financial reports and annual reports of non-financial sector companies listed on the Indonesia Stock Exchange (IDX) from 2016 to 2019.
Ibrahim Sulieman Al Qatawneh, Wesam Almobaideen, and Mohammad Qatawneh present a comparative study of surveillance and privacy regulations and law in the UAE compared to the USA and the EU in order to highlight the amendments that have been adopted to improve laws and regulations, the need for further improvement, and the strengths and weaknesses in each of these countries.
Madher Ebrahim Hamdallah and Anan Fathi Srouji aim to perceive the effect of financial entrepreneurship performance over sustainable innovation disclosure in an emerging market. Jordanian banks are tested based on a multiple regression analysis for the periods 2008 and 2018 and a time series forecasting webinar analysis for the period from 2019 to 2029 based on data ranging from 2008 to 2018.
Ayyagari Lakshmana Rao, Nikhil Kulshrestha, Gopalarathinam Ramakrishnan, and Prakash Chandra Bahugunato address the scenario of corporate governance rating in Indian corporate world to assess a firm's performance. This study was conducted from 2003 to 2021 based on the CRISIL's rating pattern with the help of majorly secondary sources of data.
Aisha Lawal, Riham Mohamed, Hind Abdalla, Walaa Wahid ElKelish, and Alhashmi Aboubaker Lasyoud study the influence of accounting information systems on firms' performance during the COVID-19 pandemic and how they help enhance employees' performance and the external auditing process.
Roberta Bajrami, Adelina Gashi, Kosovare Ukshini, and Donat Rexha aim to analyze the government size impact on the growth of the economy in the Western Balkan in the time period 2000–2017 according to Fraser Institute's data, incorporating the following econometric models: fixed and random effects, pooled ordinary least squares, and Hausman-Taylor IV.
Yeti Lastuti and Khoirunurrofik Khoirunurrofik evaluate the effect of income inequality and regional characteristics such as ethnicity and religion on conspicuous consumption for visible and invisible good types of households in the Indonesian regions by dividing regions into regions with low and high-income inequality levels based on the value median Gini index in Indonesia.
Antonius Alijoyo and Kevin Bastian Sirait estimate the 2018 Annual Report Award's effect on the market performance of its listed firms' categories, focusing on the categories' abnormal returns and the abnormal trading volume.
Haitham Nobanee, Hiba Zaki Shanti, Mehroz Nida Dilshad, Fatima Alzaabi, Saif Alkindi, Jawaher Alhammadi, and Mariam Alnaqbi approach to identify the contribution that was made regarding the topic of foreign exchange risk, employing the bibliometric analysis to evaluate the literature in this sphere.
Akinola George Dosunmu deals with the question of structural inequality for women in the emerging market and problematises the unresearched and not well articulated social construct within the career experiences of women working in a telecommunication company in South Africa.
Xhemazie Ibraimi tries to explore privatization in Kosovo as a complex legal process of redistribution of social wealth to private individuals or certain enterprises.
Nkombe Herman Bamata and Maxwell A. Phiri experimentally examine how start-up awareness, management skills, and financial providers' requirements relate to the key drivers of business success and develop a framework to increase start-ups' capacity to obtain external financing.
Adel Qatawneh assesses the influence of data mining (information and communication technologies, knowledge management, data warehousing, and data mining on performance and outcomes of accounting information system application through a mediating role of information technology infrastructure.
Gabriel Maibvisira, Hapson Nyasha Muregwi, and Emmanuel Mutambara seek to determine the effect of board member experience and age on profitability and efficiency of state enterprises and parastatals in emerging markets, adopting a positivist paradigm using a cross-sectional survey.
Jamal Abu-Serdaneh and Anas Ghazalat observe the relationship between executive compensations and earnings management and approach to understand whether managerial ownership influences that relation for the non-financial firms listed in Amman Stock Exchange during the period 2010–2019.
Finally, Elvi Nasution, Sugiarto, Gracia Shinta S. Ugut, and Edison Hulu highlight the significant aspects of the project finance theme in terms of the prospective return of the infrastructure project, the risk mitigation feature of project finance in addressing various risks, and future stability requirements in achieving the future country growth target through infrastructure investment.
We hope that the papers published in this issue will be interesting and provide important indications for scholars, practitioners and regulators.