New issue of the Journal of Governance and Regulation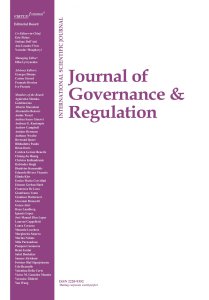 The editorial team of Virtus Interpress is glad to present the newly published issue of the Journal of Governance and Regulation (volume 10, issue 4, special issue). The issue is truly international as it contains papers by authors from the UK, Sweden, Italy, Greece, Spain, Albania, the UAE, China, Malaysia, Jordan and other countries.
The new issue of the journal investigates a lot of topics within corporate governance and regulation area, in particular, liquidity regulation, funding structures, banks behaviour, behavioral corporate finance, bank performance, finance lease, operating lease, financial ratios, human resources management practices, employee performance, employee commitment, online social interaction, social capital, entrepreneurial opportunity evaluation, whistleblowers, whistleblower rewards, corporate wrongdoing, good governance, discretionary power, judicial control, abuse of power, cash holdings, firm value, board of directors, board process, environmental scanning, macro-environment, small and medium manufacturing enterprises, short-termism, audit committee, non-executive committee members, committee size, committee meetings, fiscal policy, economic development, government policies and regulation, business taxes and subsidies, economic crisis, unemployment, investments, disposable income, internal audit, medical insurance, sustainability, health financing, debt-to-equity, capital structure, stock exchange, strategic management, mergers and acquisitions, rationality, value creation, etc.
The full issue of the journal is available at the following link .
Tafirei Mashamba examines the impact of liquidity regulations, in particular, the liquidity coverage ratio, on funding structures of commercial banks operating in emerging markets over the period 2011 to 2016.
Yun Xu and Md. Jahidur Rahman analyze the key effects of the application of a new accounting standard — Accounting Standard for Business Enterprises 21 (ASBE 21), on financial statements and financial ratios of listed companies in the Chinese air transport industry.
Shatha Mahfouz, Ayu Suriawaty Bahkia, and Noryati Alias explore the significance of employee commitment as a mediator in the relationship between human resources management practices and employee performance.
Abena Engmann using a mixed-method approaches to find out if resource availability mediates the relationship between online social interaction and opportunity evaluation.
Theo Nyreröd and Giancarlo Spagnolo review the evidence for the effectiveness of the US whistleblower reward programs, consider some recent novelties as well as objections against these programs and local factors in the US that likely contribute to their success.
Faisal Abdulhafez Alshawabkeh and Tayil Mahmoud Shiyab aim to demonstrate how judicial control can contribute to achieving good governance of the administrative decisions in the absence of the legislative provisions related to the causes of cancellation of an administrative decision.
Hamza Zaki Jaradat, Ahmad Awad Alnaimi, and Safaa Adnan Alsmadi investigate the impact of corporate governance and cash holdings on firm value as measured by the market-to-book ratio using a sample of all manufacturing firms listed on the Amman Stock Exchange over the years 2010–2017.
Mugove Mashingaidze, Maxwell A. Phiri, and More Chinakidzwa study the environmental scanning behaviour of small, and medium manufacturing enterprises owners/managers in a volatile environment.
Abdallah Bader Mahmoud Alzoubi, Gavin Nicholson, and Mohammad Bader Mahmoud Alzoubi approach to undestand if short-termism (i.e., the sub-optimal favouring of short-term performance over long-term performance) is due to cognitive bias (temporal distortion) rather than agency costs.
Ehab R. Elbahar, Magdi El-Bannany, and Mohamed El Baradie evaluate the association between bank performance and audit committee characteristics for banks in Gulf Cooperation Council over the period from 2013 to 2017.
Albana Demi, Shqipe Xhaferri, Skënder Uku, Shpend Shahini, and Alfons Lushi give an overview of the effects of value-added tax income as one of the main elements of fiscal policies on Albanian economic growth GDP for the period 1999–2019, considering also the implementation of VAT legislation rules.
Nikolaos Zisoudis, Eleni Zafeiriou, Alexandros Garefalakis, Konstantinos Spinthiropoulos, and Stavros Garefalakis make an effort to unveil the role of selected supermarket retail chain stores in the performance of certain macroeconomic parameters and therefore to illustrate the mechanism through which the restoration of the economy in Greece becomes feasible.
Andreas Irodis Rodakos, Andreas G. Koutoupis, Anna Thysiadou, and Christos Kampouris conduct a systematic literature review based on various fields and countries and discuss the internal audit implementation in European and non-European public hospitals or public bodies.
Haitham Nobanee, Hiba Zaki Shanti, Lina Subhi Abukarsh, Fatima Youssef Al Hamadi, Fatma Abdulaziz, Aysha Falah Alqahtani, Shayma Khalifa AlSubaey, and Hamama Abdulla Almansoori present a bibliometric review of 638 articles retrieved from the Scopus database on the subject of sustainable medical insurance, during the past 20 years, from 2000 to 2020.
Khaled Alzubi and Amer Bani-Hani undertake a study of the determinants of the debt-to-equity ratio, and its impact on the performance of 20 industrial companies listed on the Amman Stock Exchange.
Finally, Ignacio López Domínguez focuses on Spain through research built by in-depth interviews and surveys to specialists that shows the main three factors (financing needs of the acquirer, the need to do the deal by the seller, and the different nature and role of the participants) with a capacity to produce deviations and the main deviations created.
We hope that you will enjoy reading this issue of the journal!