New issue of the Journal of Governance and Regulation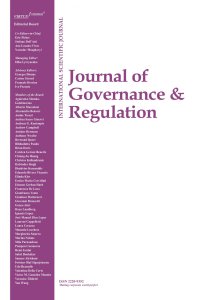 The editorial team of Virtus Interpress is happy to announce the release of a new issue of the Journal of Governance and Regulation. The current issue includes scholarly articles falling in the purview of a wide range of research themes. All of the articles published in this issue have a very promising feature in that they emphasize numerous areas of corporate governance that have been under-explored in the institutional settings of developing countries.
In particular, this issue provides a deep analysis of the issues of corporate governance, regulation, capital structure, tax avoidance, fiscal decentralization, thin capitalization, risk governance, risk-taking behavior, banks, code of ethics, public and private organizations, ethical values, fraud-resilient organizations, fraud triangle, financial development, financial indicators, financial accountability, management accounting, financial management, earnings management, financial reporting, external audit, investments, innovation, entrepreneurship, firm performance, balanced scorecard, government regulation, governance codes, local governance, marketing strategies, products branding, digitalization, e-government, information culture, public services, accounting standards, IFRS, GAAP, revenue standards, shareholders' value, hospital governance, restriction policy, pandemic, sustainability, environmental management, human resources, job rotation practice, etc.
The full issue of the journal is available at the following link .
Rahma Intan Anindita, Ferry Irawan, Amrie Firmansyah, Suparna Wijaya, Resi Ariyasa Qadri, Joko Sumantri, Arifah Fibri Andriani, and Moh Luthfi Mahrus examine the effect of the thin capitalization rules on capital structure (leverage) and tax avoidance on the basis of the sample of companies listed on the Indonesia Stock Exchange.
Tafirei Mashamba and Shenaaz Gani approach to understand how risk governance mechanisms affect the risk activities of banks in emerging markets, using the sample of forty-one banks in twelve African economies.
Razana Juhaida Johari, Ida Rosnidah, Norli Abd Talib, and Ilinorhikmah Mohd Helmi aim to shed light on the role of codes of ethics in fostering the development of fraud-resistant organizations and the impediments to code of ethics adoption in Malaysia.
Pranvera Dalloshi tries to show the main indicators of the financial development measurement and the gap between high- and low-income countries' financial systems using the financial development index developed by the IMF.
Luky Primantari, Roderikus Agus Trihatmoko, and Trio Handoko seek to describe and give an overview of product branding theory from the phenomenon of entrepreneurial empowerment for original Solo batik (Batik Asli Solo) clothing products.
Joko Tri Nugraha, Tarmizi Achmad, Hardi Warsono, and Tri Yuniningsih investigate the information technology culture of public organizations in the context of public services and identify the driving and inhibiting factors of e-government based public services.
Mohammed M. Yassin, Osama Samih Shaban, Dea'a Al-Deen Al-Sraheen, and Khaldoon Ahmad Al Daoud aim to explain earnings management practices using a revenue standard on the basis of an online questionnaire distributed to accountants working in two different contexts: Jordan as an IFRS country and the USA as a GAAP country.
Suhaily Hasnan, Nurshylah Othman, Alfiatul Rohmah Mohamed Hussain, and Mazurina Mohd Ali analyze the relationship between factors of pressure, opportunity, and rationalization, and the occurrence of real earnings management among Malaysian public listed companies.
Abdul Basyith, Pauline Ho, and Fitriya Fauzi examine the efficacy of the Malaysian Corporate Governance Index on shareholders' value over the 12-year period from 2008 to 2019 and compare pre- and post-CG Blueprint.
Muhammad Din, Munawarah Munawarah, Imam Ghozali, Tarmizi Achmad, and Fikry Karim study financial accountability based on the regulation as a moderating effect of fiscal decentralization on fraud rates in local government financial management.
Webster Funhiro, Bhasela Yalezo, and Emmanuel Mutambara seek to establish the challenges faced by hospital management boards in the management of public hospitals with a focus on six central hospitals in Zimbabwe.
Dadang Hartanto and Nasrullah Hidayat in their quantitative descriptive study aim to determine community activities during the implementation of the activity restriction policy during the COVID-19 pandemic.
Silas Mukwarami and Michael Bamidele Fakoya evaluate the causality relationship between sustainability factors and water management in the public sector of the emerging market and explore a unique approach to addressing water services delivery challenges.
Moh'd Anwer Al-Shboul, Shorouq Mansour Al-Etan, Rana Albahsh, and Mahmoud Al-Dalahmeh deal with the current process of the job rotation practice that the human resource supply chain management directorate is applying at Jordan Customs.
Yousif Abdelbagi Abdalla, Abdelrahman Mohamed Ibrahim, Alhashmi Aboubaker Lasyoud, and Mohammed Hersi Warsame using a qualitative approach try to identify and understand the barriers to the balanced scorecard implementation in the Sudanese banking sector.
Finally, Fouad Daidai and Larbi Tamnine estimate the influence of compliance with a governance code on performance management practices in Morocco and assess whether there is an impact of the corporate governance code via a compliance score on performance management.
We hope that readers will find this issue interesting and enjoy reading.